LAHORE: (Thursday, October 15, 2015): Punjab Education Minister Rana Mashhood Ahmed Khan has said that provision of justice and curbing crime was among the top priorities of the government. He said that the government was working on service structure of prosecutors, training of staff concerned, establishment of model police stations and their computerization in this regard.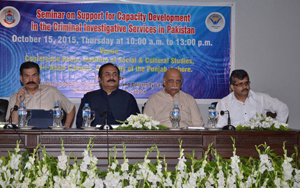 He was addressing a seminar on "Criminal Investigative Services in Pakistan" organized by Punjab University Institute of Social and Cultural Studies here on Thursday. PU Vice Chancellor Prof Dr Mujahid Kamran, Dean Faculty of Behavioral and Social Sciences Prof Dr Zakria Zakir, Principal PU Law College Dr Shazia Naureen Qureshi, Former Additional IG Sarmad Saeed Khan, District Prosecution Lahore Malik Azhar, Additional IG Monitoring Punjab Police Waqas Hassan, Additional IG Legal Punjab Police Kamran Adil, Waqar-un-Nisa, Riaz Majeed, Tariq Ishaq, faculty members and students were also present on the occasion.

Addressing the ceremony, he said that the incident of Muzaffargarh in which the rape victim had committed suicide was really unfortunate and condemnable. He said that every institution and personality should play role for avoiding such incidents. He said that we should promote culture of self accountability to strengthen system in the society. He said that the future of Pakistan was associated with young students and their success was actually Pakistan's success. He said that there was lack of coordination between research/academic institutions and industry. He said that to cope with this challenge, the government was establishing Knowledge Park like the developed countries did. PU VC Dr Mujahid Kamran thanked Rana Mashhood for his support to the universities and said that the minister was working for promotion of research and education in the province. Addressing the ceremony, Additional IG Police Kamran Adil, Waqas Hassan, Sarmad Saeed Khan and others said that there was need of well-coordinated team work for criminal justice reforms. They said that we need to plan and implement best model for provision of justice and controlling crime ratio and remove technical hurdles in this regard.