LAHORE: (Thursday, November 26, 2015): Former Foreign Minsiter Khursheed Mahmood Kasuri has said that a positive thing is that Kashmir issue is resolvable however the solution would not completely satisfy both the countries. He was addressing the national conference on "Challenges of Peace Building in South Asia", organized by Punjab University Centre for South Asian Studies and Political Science Department at Al-Raazi Hall here on Thursday.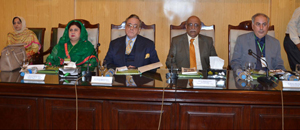 PU VC Dr Mujahid Kamran, former VC of Gomal University, D.I Khan Prof Dr Mansoor Akbar Kundi, Director Prof Dr Umbreen Javaid, faculty members and a large number of students were present on the occasion. Addressing the ceremony, Mr Kasuri said that both the countries could not afford to fight a war because both were atomic powers and struggling to improve their economic conditions. He said that the ground realities told India that it will have to talk to Pakistan. He said that the recent incidents of atrocities on minorities had damaged India's image not internationally but the locals had also resented by returning their awards to the government.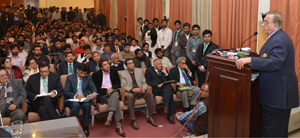 He said that the results of recent elections in India clearly showed that radical policies could not be continued. He said that extremist Hindus did not want cricket match to be played between India and Pakistan. He said that Operation Zarb-e-Azb was aimed at saving and uniting Pakistan. PU VC Dr Mujahid Kamran said that Khurshid Mahmood Kasuri had written an excellent book on Pak India relations and was an important document. He said that Pakistan and India had no option other than talks to resolve all issues. Dr Mansoor Akbar Kundi said that peace could not be ensured in Asia without establishing peace in Afghanistan. Prof Dr Umbreen Javed announced that a one year diploma in Indian studies would be launched and Indian Study Cell would be established in the centre.