LAHORE: (Thursday, December 3, 2015): Punjab University Child Welfare Centre (PUCWC) on Thursday celebrated International Day of Persons with Disabilities by paying tribute to the victims of Army Public School. A group of special children of PUCWC presented a tableau sketching the cowardly attack on schoolchildren and Pakistan Army's bravely response to the terrorists.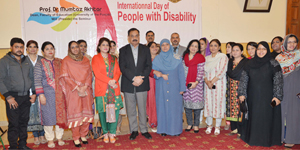 The children gave the message the nation is united against terrorists and was undefeatable. The event was organized at Al Raazi Hall of Undergraduate Studies in which Principal Law College Dr Shazia Qureshi, Dean Faculty of Education Dr Mumtaz Akhtar, PUCWC Principal Ayesha Wajihullah, social worker Raja Munawar, Humaira Bano, Vice President ASA Dr Abid Hussain Chaudhry, Secretary Dr Mahbbob Hussain, teachers and a large number of special children were present on the occasion.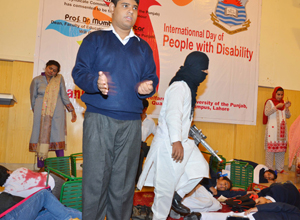 Addressing the ceremony, Dr Shazia Qureshi said that Allah has bestowed special children with special abilities and they are also full of talent. She lauded the performance of the special who performed various activities on the stage that had attracted a huge applause.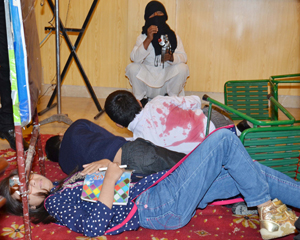 Raja Munawar said that it was better to call the children with disabilities as super children. Dr Abid Hussain Chaudhry said that mass-scale activities must be organized so that people could know about the abilities of the special children. The children also performed 'sufi raqs', Qawali and other activities on the occasion.