LAHORE: (Wednesday, December 9, 2015): Punjab University College of Earth and Environmental Sciences (CEES) in collaboration with Indus Consortium and Oxfam Novib organized Grow Festival at the college's lawns to highlight the issues of food security and climate change here on Wednesday.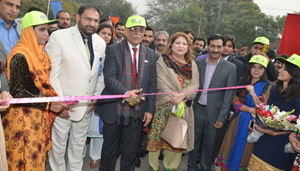 PU Vice Chancellor Prof Dr Mujahid Kamran, CEES Principal Prof Dr Sajid Rashid, University Law College Principal Dr Shazia Qureshi, Indus Consortium National Coordinator Hussain Jawad, faculty members and a large number of students were present on the occasion. Lahore Waste Management Company, Punjab Forest Department and many other companies had set up stalls for creating awareness regarding food security and environmental problems. The CEES students exhibited different models featuring the process and importance of reusing water and other waste material. The students also presented a theatre on the topic of climate change and its effects on the crops and environment and social behaviors during calamities.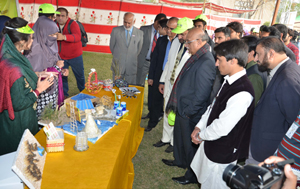 PU VC Dr Mujahid Kamran and others lauded the efforts of the students and the organizers and praised the leadership abilities of CEES Principal Prof Dr Sajid Rashid. Essay, cooking, model, poster and debate competitions were also held on the occasion.