LAHORE: (Friday, December 11, 2015): Punjab University Vice Chancellor Prof Dr Mujahid Kamran has said a high cabal of banking families wanted to establish one world government through imposing wars. He said that genocide of the Muslims was going on and they were facing destruction only because of lack of knowledge. He said the Muslim's comprehension of Islam was incorrect and our enemies were taking benefit of this weakness.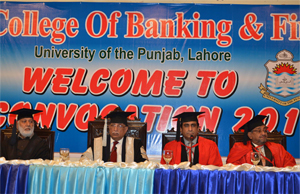 He was addressing the 1st convocation of Punjab University Hailey College of Banking & Finance (HCBF) at Dr Pervaiz Hassan Environmental Law Auditorium here on Friday. On this occasion Registrar Prof Dr Liaqat Ali, Dean Faculty of Commerce Prof Dr Hassan Mobeen Alam, Principal HCBF Prof Dr Mubbsher Munawar Khan, faculty members and a large number of degree holder students were present on the occasion.

Addressing the ceremony, Dr Mujahid Kamran said that the Muslims were so much ignorant that they even could not count their dead bodies and this work was done by an Australian Jewish scientist Gideon Polya. He said that in his book "Body Count", Gideon Polya said that there had been 1.3 billion avoidable deaths during the period 1950-2005 of which 600 million were Muslims.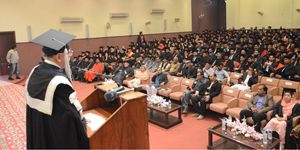 He said that in the recent Afghan War, around 4.9 million Afghans had been killed out of which 1.2 million were killed in bombings etc and 3.7 million Afghans died of diseases and lack of medicines till 2010. He said that 2.7 million Iraqis were killed in the recent Iraq War and 5 million children had become orphan. He said that both the wars were imposed on the basis of false pretext. He said that our journalists and columnists should focus on these issues and highlight these problems.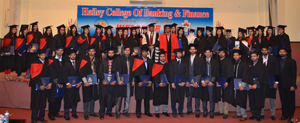 He said that our governments in the past did not give appropriate attention to education. He said that America's GDP was around 17 trillion and it spent 2 to 3 percent i.e. 340 to 510 billion dollars on research and development per year while Pakistan had a GDP of around 250 billion dollars only and was spending only 0.2 percent on research and development per year. He advised the students to adopt reading habits and help each other.

Addressing the ceremony, Mubbsher Munawar Khan said that HCBF was providing the best human resource in the market. He remembered the efforts of college's late principal Prof Dr Khawaja Amjad Saeed for uplifting standard of the college. He thanked PU VC DR Mujahid Kamran for his support in academic and co-curricular activities. As many as 303 students were awarded souvenirs and degrees on the occasion.