LAHORE: Punjab University Institute of Communication Studies (PU ICS) Character Building Society organised a seminar on "Corruption and role of Society, Media and Journalism Students" in collaboration with National Accountability Bureau (NAB) Lahore here on Friday.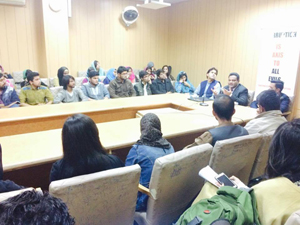 NAB Lahore Deputy Director Muhammad Sajid, ICS Incharge Director Dr. Noshina Saleem, Advisor Student Affairs Shabbir Sarwar, Amir Bajwa, Office-Bearer of NAB-ICS-CBS and large number of students were present in this seminar at auditorium.
Addressing the seminar NAB Deputy Director Muhammad Sajid said that corruption was second largest issue of the country followed by terrorism. "Although corruption is on the second number, however financial corruption is directly linked to the top one issue, terrorism in the country."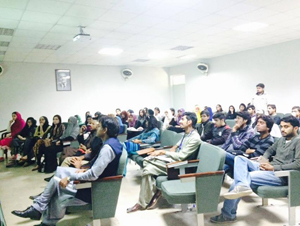 The NAB Officer gave a detailed briefing to the students about various aspects functioning and operations of his organization. He said adopting a pro-active strategy NAB has started spreading awareness against the menace of the corruption to the student at schools, colleges and university level.
Dr. Noshina Saleem said in order to get rid of the disease of corruption in Pakistan, everyone of us has to begin from him/herself. She said individuals make the Nations and individual's character reflects the Nation's image. She praised NAB Lahore for launching an awareness drive by celebrating the week on the eve of World Anti-Corruption Day.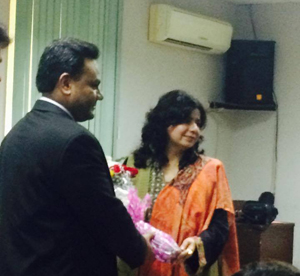 In the end, NAB Deputy Director and ICS Director presented a bouquet of flowers to the newly elected ICS-CBS president Farrukh Shahbaz Waraich and girl President Khadija Zafar Chishti.