LAHORE: (Thursday, December 17, 2015): Punjab University Vice Chancellor Prof Dr Mujahid Kamran has said that mental, physical and psychological determination to fight war against terrorism must be maintained and continued. He said that the brutal incident of attack on Army Public School united the whole nation and the nation was standing with its Army in this war. He was addressing a mega ceremony to pay tribute to the martyrs of Army Public School and express solidarity with their families organized by Directorate of Students Affairs at Faisal Auditorium here on Thursday.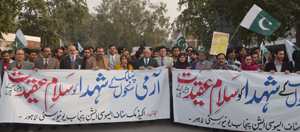 Director Students Affair Shahid Gul, Deputy Director Zubair Akram, Registrar Prof Dr Liaqat Ali, Principal Law College Dr Shazia Qurashi, President Academic Staff Association Prof Dr Hasan Mobeen Alam, Vice President Prof Dr Abid Hussain Chaudhry, Secretary Dr Mahboob Hussain, Director IER Prof Dr Mumtaz Akher and a large number of students were present on the occasion. Children from Army Public School Lahore and other schools also participated in the ceremony. In the exclusive event of its nature ever held in PU, students from different departments sung various national songs while emotions of a lot of participants melt into tears when the students performed a play narrating the tragic incident.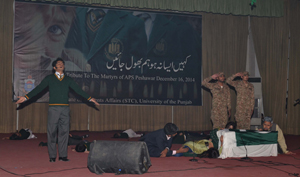 Students also presented English and Urdu debates and a dua was offered for the martyrs of Army Public School. Addressing the ceremony, Dr Mujahid Kamran said that Allah had instructed in Quran to kill or exile those who wanted to disrupt peace and tranquility of the society and fan 'fasad'. He said that the terrorists set the worst example of barbarism by cowardly attacking APS Peshawar and killing innocent children. He said that the Muslims must live with respect and power and the nature always rewarded those who worked day and night. He congratulated Shahid Gul and Zubair Akram on successfully organizing a mega event. Later, PU VC Dr Mujahid Kamran led a walk organized by PU Academic Staff Association from Faisal Auditorium to Undergraduate Block to pay tribute to the martyrs of Army Public School.