LAHORE: Students of the Institute of Communication Studies took out a rally in memory of APS Peshawar attack martyrs expressing solidarity with the armed forces' ongoing operation Zarb-i-Azb to weed out terrorism form Pakistan.
The rally stared from ICS under the leadership of In-charge Director Dr Noshina Saleem, Advisor Student Affairs Shabbir Sarwar, Ms Sana Naveed Khan, Fahad Mehmood, Shazia Toor and other faculty members and ended at Faisal Auditorium.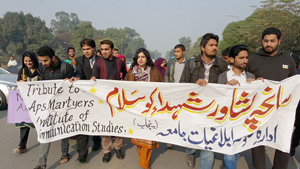 The students were carrying placards and banners inscribed with various slogans to present tribute to the martyred students and teachers. They also chanted throat out slogans against terrorism. Addressing on this occasion Dr Noshina Saleem said that we will defeat the coward enemies through our weapon of knowledge and education. She said education was the best revenge and the song Hamein Dishman ke Bachon ko Parhana hai (we need to educate the children of our enemy)" befits on this occasion.
Prof Shabbir Sarwar said that the said incident of APS attack has united all political and armed forces on one point and one agenda that this to weed out the menace of extremis and terrorism form our country. He said the sacrifice of the APS martyrs would be remembered forever in the country because it's a turning point in the history of the country.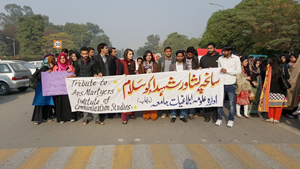 The rally was arranged by the ICS Character Building Society. Society president Farrukh Shahbaz Warraich said education is the only weapon to eliminate terrorism. Saeed Ahmed Saeed, Vice President ICS CBS added that although our leaders are slumbering but army is actively engaged in protection of our state. Inshallah that time is not so far when the curse like terrorism shall be eradicated forever and for this, being a student we should positively construct our personality and dignity.