LAHORE: (Friday, February 5, 2016): Punjab University Vice Chancellor Prof Dr Mujahid Kamran has said that our stance on Kashmir should be clear and well-reasoned but a few persons were fanning disappointment on media. He was addressing a seminar organized by Pakistan Study Centre in connection with Kashmir Solidarity Day at Al Raazi Hall here on Friday. Renowned political leader of Azad Kashmir Sardar Khalid Ibrahim, former chief justice of Pakistan Justice (r) Riaz Sheikh, Air Marshal (r) Amjad Hussain, Vice Chairman Anti Corruption Punjab Rana Ikram Rabbani, President Jamiat Ulema-i-Pakistan Pir Ejaz Ahmed Hashmi, renowned lawyer Ahmed Awais advocate, a delegation of lawyers from Jammu Kashmir headed by Syed Babar Qadri, senior faculty members and a large number of students were present on the occasion.

Addressing the seminar, Dr Mujahid Kamran revealed that in the past, Israel in connivance with India had planned to attack Kahuta Atomic Plant through aerial assault and they had practiced joint exercises. He said that when Pakistan came to know about their nefarious design, the Pakistani government conveyed the message to the Indian government that if they made any such attempt, then a fleet of Pakistan's Mirage aircraft would destroy Trombay Nuclear Reactor in a suicide mission. He said that after this message, India then conveyed to Pakistan that the Kahuta plant would not be attacked which proved that Pakistan had the ability to defend herself.

He said that Pakistan's leadership in the past did not pay the required attention to Kashmir issue which it deserved. However, he said, Prime Minister Mian Nawaz Sharif's recent speech at the United Nations had sensitized the nation and highlighted the issue. He said that our enemy was well aware of our potential but we were underestimating ourselves while we had the potential to become a great power. He called upon the government to allocate at least 5 percent of GDP to education, at least 1 percent to research and development and declare compulsory army training to the youth to cope with all the problems the country was facing. He said that ISIS was a creation of Mossad. Addressing the ceremony, Khalid Ibrahim said that unfortunately we were not aware of our case regarding Kashmir. He said that Quaid-e-Azam's stance on Kashmir was that Kashmiris should be given right to plebiscite. He said that which sort of democracy was in India where a single family had ruled directly for over 43 years after 1947? They said that Kashmiris had confidence in Pakistan and its people and we were proud of being Pakistanis first and then Kashmiris. Addressing the seminar, Syed Babar Qadri advocate from Jammu Kashmir said that he was very disappointed when he met Kashmir Committee and this committee must be independent. They said we did not want Pakistan fight war for us but since we understood Pakistan as our lawyer, we wanted Pakistan to fight our case in the best manner and lobby for our rights.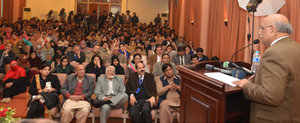 He said that we wanted seriousness and empathy from Pakistan and we wanted meaningful dialogue. He said that real political facts regarding Kashmir had been distorted. He said that not only Kashmiris but the Muslims of UP were also fighting to become part of Pakistan. He said that Indian government was destroying career of the Kashmiri youth and various tactics were being used for our genocide. He said that the water of Kashmir was source of energy for New Delhi but Kashmiris were facing 6 hours loadshedding a day. He said that we were aware of Pakistan's importance even more than Pakistanis. He said that we were happy that Pakistani nation was very serious and sensitive regarding Kashmir issue. He said that we were disappointed from Pakistani media. Air Marshal (r) Amjad Hussain said that Halwa was the only thing for Kashmir Committee. He said that every leadership after Quaid-e-Azam had failed in resolving Kashmir issue and we had lost many occasions where we could have liberated Kashmir. He said that we need to work on resolving Kashmir issue in an organized manner. Former Chief Justice of Pakistan Justice (r) Riaz Sheikh said that Nehru used his links with the wife of Lord Mountbatten to include the area of Gurdaspur in India. Vice Chairman Anti Corruption Punjab Rana Ikram Rabbani said that the new generation was not aware of Kashmir issue and unfortunately, the Muslim countries had not jointly put pressure on India in this regard. President Jamiat Ulema-i-Pakistan Pir Ejaz Ahmed Hashmi said that India was constructing 60 dams on the rivers of Kashmir and Kashmiris were actually fighting war of Pakistan. He said that the focus of Kashmir Committee was on getting facilities and it was doing nothing. Renowned lawyer Ahmed Awais advocate said that we had done many mistakes in the past but now was the time to decide our future. He said that Pakistan must had taken commitment from the United States during the Soviet War that the US would help resolve Kashmir issue but it could not happen. He said that we must highlight Kashmir issue at all levels and convince the world that if the issue was not resolved, the region would become a nuclear flash point. Addressing the ceremony, Prof Dr Massarat Abid threw light on the reasons behind Kashmir issue and discussed various events in chronological order. In her address, she said that Kashmir issue was bone of contention between Pakistan and India. She said Kashmiris were making efforts for their liberty and Indian government was killing innocent Kashmiris. She said that Kashmiris must be given their right to plebiscite. She said that Pakistan must continue its moral support to the people of Kashmir. She said that this was not a regional issue but a humanitarian issue.