'Media must not spread negativity and pessimism'
Sufi Scholar Irfan ul Haq was keynote speakers, writer Bushra Rahman and columnist Ajmal Niazi also participated
LAHORE: Pakistani journalists are not abiding by the very basic principles and ethics of journalism, they must help build country with the power of their, pen and speech, and probe properly before publishing or broadcasting any negative news because contradiction is not possible in real terms.
This was stated by renowned Sufi scholar and Pir Irfan-ul-Haq while addressing a seminar on "Journalism and Our Responsibilities," at Institute of Communication Studies, Punjab University here on Tuesday.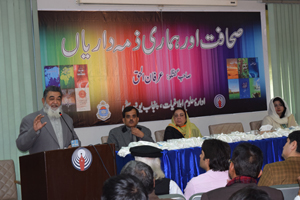 Writer and analyst Bushra rahsman, columnist Ajma Niazi, ICS incharge Dr Noshina Saleem, Dr Waqar Malik, Dr Bushra Hameed, Adviser Student Affairs Shabbir Sarwar, Fahad Mahmood, Aamer Bajwa, Sana Khan, Shazia Toor and a large number of students attended the seminar.
Sufi scholar Irfan-ul-Haq said that instead of promoting pessimism and negativity journalists must highlight social issues like need of cleanliness, hardworking, traffic problems, environmental and food related and other development communication problems of the country. He said Islam emphasised upon the credibility of the fact and transferring only authentic and reliable information. He said the guarantee of jannat was linked to protecting one's tongue.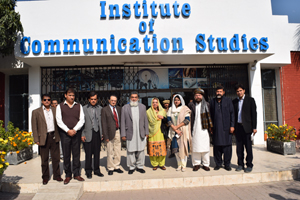 Writer Bushra Rahman termed the lecture every informative and thought provoking on the issue of journalistic ethics and urged the Sufi scholar to write a complete book on media ethics and responsibilities.
Mr Iran responded to the various queries regarding job of veiled women in media, fate and hardworking, concept of Ishaq and love and concept of journalism in Islam.
Dr Noshina Saleem and Dr Waqar Malik, the main organiser of the event, formally thanked the guest speakers and present bouquet.