LAHORE: (Thursday, February 25, 2016): Punjab University Vice Chancellor Prof Dr Mujahid Kamran has said that housing societies and roads are being constructed on agricultural land because of increase in population, resulting in reduction of green areas, plants and trees. He was addressing the tree plantation campaign jointly launched by College of Earth and Environmental Sciences, Punjab Forest Department and Indus Consortium at the college's lawns. CEES Principal Prof Dr Sajid Rashid, Director Irrigation Department Ghulam Zakir Hassan Sial, Deputy General Manager Afzal Toor, Divisional Forest Officer Muhammad Salim, From Indus Consortium Kiran Simon, Resident Officer-II Malik Muhammad Zaheer, Additional Registrar-I Dr Kamran Abid, faculty members and a large number of students were present on the occasion.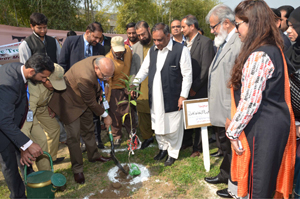 Addressing the ceremony, Dr Mujahid Kamran said that PU has planted over 33 thousand trees on campus and lauded the services of Malik Muhammad Zaheer in this regard. Prof Dr Sajid Rashid said that the next generations would benefit from the saplings which we would plant today.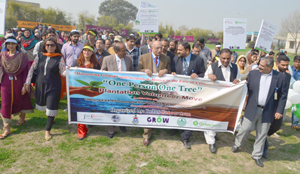 He said that the VC had issued strict instruction not to cut down any tree on campus. Ghulam Zakir Hassan Siyal said that trees were guarantee to life and also played important role in economic development. Mr Muhammad Saleem said that the Forest Department had 12 million trees in its 212 nurseries which were being provided to Pakistan Army, education and health sectors free of cost. Kiran Symon said that we must plant trees to avoid natural calamities like floods, storms etc. Earlier, the PU VC led an awareness walk and planted saplings in the college's lawn.