Activities regarding Women's Day in MMG Department
Activities regarding Women's Day in MMG Department
International Women's Day was celebrated in the Department of Microbiology and Molecular Genetics (MMG), University of the Punjab, Lahore on Tuesday 8th March, 2016.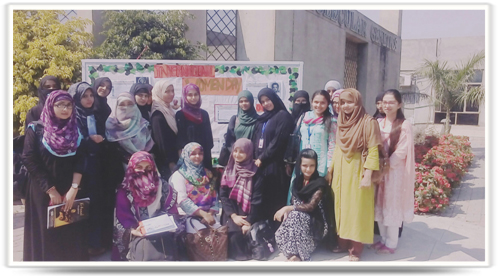 This day was arranged by the extracurricular committee (Dr. Abdul Rehman, Dr. Rida Batool, Dr. Saba Riaz, Dr. Saira Malik and Dr. Nageen Hussain) of MMG department. Prof. Dr. Anjum Nasim Sabri (Chairperson MMG Dept) inaugurated the seminar and various stalls. The agenda of this day was to highlight the condition of women especially in Pakistan and the need to implement effective laws to protect their rights.
Speakers emphasised on the rights of women in Islam. Dr. Nousheen Zaidi, (Assistant Professor, MMG Dept) recommended female students to built a habit of extensive reading in order to get awareness about their rights. She has talked on Finkbeiner test as well as on bechdel test in detail.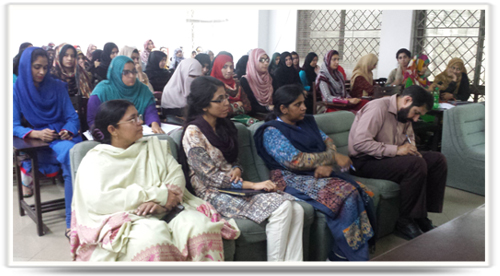 Hina Khan (BS Hons, Semester IV) and Amna Sajid (M.Sc Student, Semester II) talked about the social protection of domestic workers rights and the heinous violence, both physical and sexual, facing by them. Dr. Shazia Qureshi (Principal Law College, PU) congratulate all the MMG female students and staff on Women's day.