LAHORE: (Tuesday, April 12, 2016): Federal Minister for Planning, Development and Reforms Prof Ahsan Iqbal has said that today is the era of knowledge economy and we need to change our traditional teaching style which has become redundant and adopt interactive teaching style that could create critical thinking among students. He requested the media to highlight investment and progress made in education sector. He was addressing a big gathering at Punjab University's Faisal Auditorium here on Tuesday. PU Vice Chancellor Prof Dr Mujahid Kamran, Registrar Prof Dr Liaqat Ali, deans of faculties, heads of departments and a large number of students were present on the occasion.

Addressing the ceremony, Prof Ahsan Iqbal said that youth were Pakistan's biggest power and if we give them quality education, they would become the largest driving force for the development of the country. He said that universities must create skills among the students, produce world-class research, bridge gap between academia and industry, work for community uplift and play role for eradication of extremism from society. He said that the academic environment of Punjab University had improved manifold and it was hoped that PU would lead in all these matters. He said that annual budget of HEC was 48 billion rupees in 2013 and now the government had increased it to 78 billion rupees. He said that we must reject the elements fanning pessimism and move forward with the message of hope. He said that the 20th century belonged to political ideologies but the standards of development had changed in 21st century and now the development of a country depended upon three things. He said that how surplus was the production of the country i.e. the economic development; whether the development was inclusive and all the areas and segments of society are benefiting from the development and what was the competitiveness of the country? He said that we needed to enhance our production capacity and improve our standard continuously.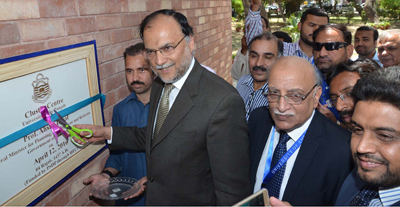 He said that we needed to introduce knowledge and information revolution in the country and introduce innovations in all the sectors. He said that the Corps Commanders of Pakistan Army are safeguarding the boundaries of Pakistan very well and the Corps Commanders of the development of the country are the vice chancellors of the universities. He said that China Pakistan Economic Corridor was the backbone of country's development and the energy crisis would end by 2017-18. He said that all the investment would be withdrawn by the investors if there was any political turmoil in the country as all those countries progressed where there was continuation of policies. He said that he was happy to see the pace of development projects at Punjab University. In his address, PU Vice Chancellor Prof Dr Mujahid Kamran lauded Prof Ahsan Iqbal for extending all-out support to the universities. He said that because of special attention of Prof Ahsan Iqbal, as many as 84 crores rupees were given to Punjab University in 2014-15 session for various academic and development projects. He said that PU would also get Rs 1 billion for its mega project related to environment and energy. Earlier, the federal minister inaugurated newly set up Cluster Centre at New Campus and visited Centre for Coal Technology.