LAHORE: (Friday, April 22, 2016): Punjab University Vice Chancellor Prof Dr Mujahid Kamran has said that books urge a human being to think and seek answers to the questions and brain leave working if one stops reading the books. He was addressing a seminar titled "My Books, Myself and My Personality" organized by PU Department of Information Management in collaboration with Punjab University Library and National Book Foundation on the occasion of World Book and Copyright Day.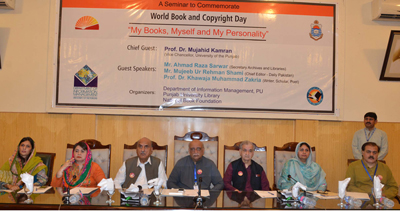 Assistant Director National Book Foundation Nuzhat Akbar, renowned Columnist Sajjad Mir, Intellectual, poet and Prof Emeritus Dr Khawaja Muhammad Zakria, Chairperson Department of Information Management Prof Dr Kanwal Amin, Chief Librarian Haseeb Ahmad Pracha, faculty members, librarians and a large number of students were present on the occasion.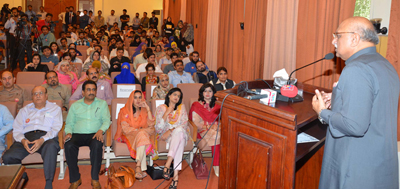 In his address, PU VC Dr Mujahid Kamran said that around 750 Aya'hs of the Holy Book stressed the mankind to explore the mysteries of universe and seek knowledge. He said that books must be made accessible to every house so that book reading habits could be promoted at childhood level. He said that if there is no book reading habit, our society could not produce good doctors, teachers, engineers, players etc and teachers should also adopt this habit. Senior columnist Sajjad Mir said that we must spend maximum time with books because studying a book promoted reading habit among us.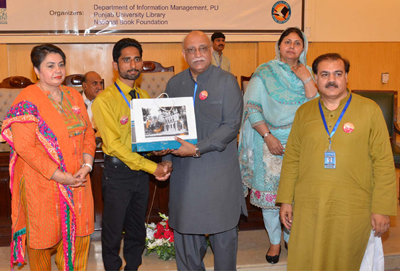 He said that the gift of books not only distribute knowledge but happiness as well. Prof Emeritus Prof Dr Khawaja Muhammad Zakria said that our population had increased while ratio of book readers had decreased because we had started adopting shortcuts. He said that around 90 percent students admitted that they did not read books and it was a matter of grave concern. Prof Dr Kanwal Amin said that book had been a source of spreading knowledge for a long time however the number of publication of books in Pakistan was far lesser then the number of books published in developed countries. She said that the role of books could not be ruled out in character building of human beings. Earlier, Assistant Director National Book Foundation Nuzhat Akbar administered oath to the participants regarding adoption of book reading habit. PU VC Dr Mujahid Kamran also awarded Book Lover Awards 2016 and distributed gifts of books among top ten library user.