LAHORE: (Friday, May 6, 2016): As many as twenty nine thousand six hundred and thirty books were sold on the first day of Pakistan's largest book fair being organized Punjab University administration at New Campus.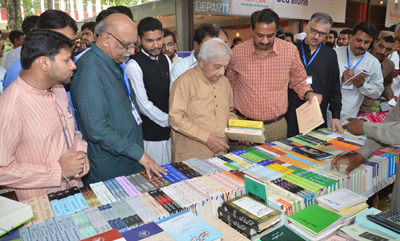 On the second day, PU VC Dr Mujahid Kamran, MPA Majid Zahoor, Opposition Leader Mian Mehmood-ur-Rashid, senior journalists Hassan Nisar, Ata ur Rehman, Farrukh Sohail Goindi, Salman Abid, Members of Pakistan Federal Union of Columnists including Farrukh Shahbaz Warraich, Hafiz Zohaib Tayyab, Noor-ul-Huda, President Rotary Club Lahore Canal Syed Shahbaz Bukhari, writers, doctors, lawyers, engineers, students and people from other walks of life visited the book fair.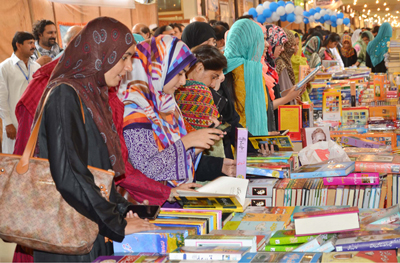 On the occasion, a large number of children, senior citizens and special persons were also seen visiting stalls and all the participants were found taking maximum benefit of maximum concessions on the books. Talking to media while visiting the book fair, MPA Majid Zahoor said that PU's annual book fair was playing its role in promotion of book culture in our society.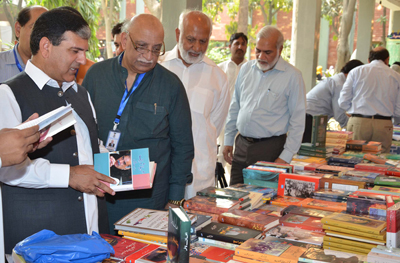 Senior journalist and analyst Hassan Nisar said that the visit of PU's book fair was a wonderful experience especially while it has been freed from the clutches of a mafia, its meaning and face had been changed. Senior journalist Ata ur Rehman lauded PU VC Dr Mujahid Kamran for organizing such a mega academic event for promotion of books. He said that it was common impression that reading habits were reducing in the present age but he was glad to see sea of people and young students purchasing books at the book fair.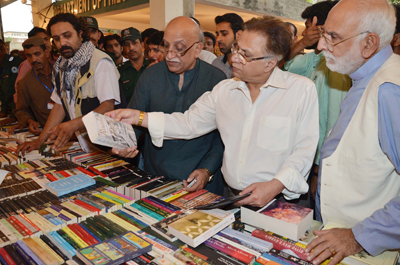 The participants of the book fair said that they were thankful to PU administration for providing all varieties of books on reasonable prices which would help promote study culture in society. They said that such activities must be organized continuously in all the universities so that people could purchase maximum books on reduced rates. The book fair will continue on Saturday till 8pm. As per tradition, a large number of families also throng book fair on the third day along with personalities from all walks of life.