Lahore: Prof Dr. Zaffar Mueen Nasar, Vice Chancellor, University of the Punjab declared that Pakistan is facing the problems of terrorism, poverty, illiteracy which need to be addressed on priority basis. He was addressing the opening session of two-days training workshop on NGO Management and Leadership organized by the Department of Social Work, University of the Punjab, and Department of Social Welfare, Government of the Punjab in collaboration with Community World Service Asia.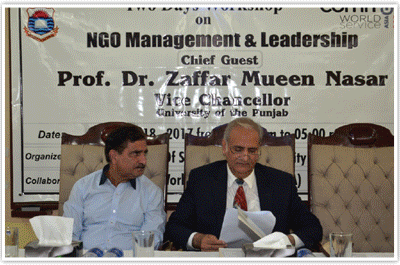 The Vice Chancellor further stressed that Punjab University is spending one billion rupees on its faculty, employees and students for academic and research promotion. However, the desired outcome is not matching with it. He viewed that the benefits of research should reach to the people of Pakistan. It is needed that community service should be made mandatory for the students of the University.
Dr. Zahid Javed, Chairman Department of Social Work, Waheed Akhtar Ansari, Director General Social Welfare, Government of the Punjab, Dr. Ikhlaq Hussain Shamsi, Rector Superior University, Mohammad Azam Khan, Former Deputy Auditor General of Pakistan, Captain Arshad Manzoor, Deputy Secretary, Special Education Punjab, Mr. Irshad Waheed, Deputy Director Social Welfare, Ms. Sonia Omer, Mr. Arshad Abbasi and Ms. Raazia Hassan were in the occasion and a large number of students also participated in this workshop.