LAHORE: (Monday, April 24, 2017): Punjab University Vice Chancellor Prof Dr Zafar Mueen Nasir has urged the students to help resolve challenges being faced by Pakistan and become high achievers in their field.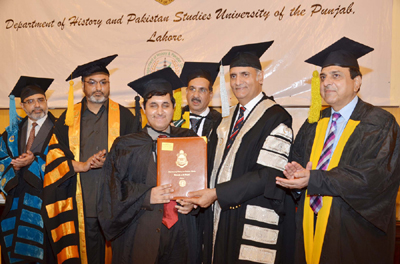 He was addressing the first-ever degree awarding ceremony of recently graduated students of Department of History and Pakistan Studies. Dean Faculty of Engineering and Technology Prof Dr Taqi Zahid Butt, Registrar Dr Muhammad Khalid Khan, Controller of Examinations Prof Dr Shahid Munir, Dean Faculty of Arts and Humanities and chairman of the department Prof Dr Iqbal Chawla, senior faculty members and a large number of students and their parents were present on the occasion.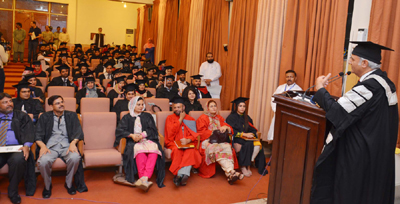 Addressing the ceremony, Dr Zafar Mueen said the students of history and Pakistan studies must do research on hidden facts of the history and present them to the people. He urged the students to keep the name of Punjab University high as their alma matter had enabled them to enter new turn of their lives. Addressing the ceremony, Dr Iqbal Chawla said that Department of History was established in 1932 and its first research journal was published in the early year of 20th century, which has been recognized by Higher Education Commission of Pakistan a few years ago. He said that M Phil History classes were started in 2002 while regular PhD program had started in 2011 in the department. He said that 80 percent faculty members of the department were now PhDs. In the ceremony, 2 PhD degrees were awarded while around 110 degrees were distributed among students of M Phil History, MA History and MA Pakistan studies.