LAHORE: (Thursday, May 4, 2017): Punjab University Vice Chancellor Prof Dr Zaffar Mueen Nasir has said that academic institutions must play their role to help government institutions for complete eradication of narcotics from country. He was addressing an awareness seminar on "Drugs and Anti-Narcotics" organized by Punjab University Centre for Applied Molecular Biology (CAMB) in collaboration with Anti-Narcotics Force, Punjab and Willing Ways (Pvt) Ltd at Al-Raazi Hall on Thursday.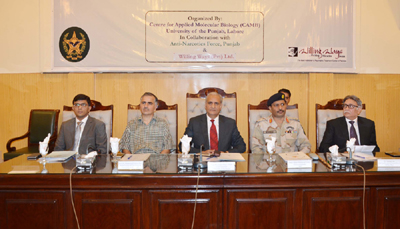 Commander Anti-Narcotics Force, Punjab Brigadier Khalid Mahmood Goraya, Director Willing Ways Dr Saddaqat Ali, Dean Faculty of Life Sciences Prof Dr Muhammad Naeem Khan, Director CAMB Dr Nadeem Sheikh, faculty members and a large number of students were present on the occasion.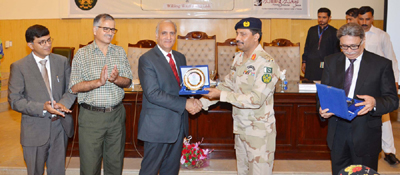 Addressing the ceremony, Dr Zaffar Mueen Nasir said that the message of eradication of illicit drugs must reach out to every citizen of Pakistan because use of narcotics had destroyed many families. He said that our will power could help us defeat this menace. He advised the students to play role of ambassadors in campaign against narcotics. He said that students must inform quarters concerned about any such illicit activity on campus. Brigadier Khalid Mahmood Goraya said that narcotics trade had become an issue of national security now. He said that due to efforts of Pakistan's security agencies, Pakistan was now poppy-free country. However, he said, we were the victim of regional production of poppy in Afghanistan. He said that Pakistan was playing important role in saving the world from the menace of illicit drugs. He said that according to the United Nations, Pakistan stood among top positions in the previous years in seizure of narcotics drugs in huge quantity which showed our seriousness in the mission. He said that we had 98 percent ratio of convictions of criminals arrested in drug cases, which was the highest ratio in the world. He said that unfortunately, there were 6.45 million drug users in Pakistan aging between 15-64 years. They said that Anti Narcotics Force had established 21 police stations and five regional directorates to strictly monitor drug trade routes. He said that since 2013, as many as 1119 cases had been registered and 1489 criminals had been arrested. He said that ANF had also established drug rehabilitation centres and some 8000 patients had been given treatment free of cost. He advised the students to point out people involved in the business of illicit drugs and play their role in creating awareness. Addressing the ceremony Dr Sadaqat Ali said that because of societal pressure, drug addicts did not take part in such awareness seminars so it is our collective and individual responsibility to create awareness against narcotics among them. He said that drug addicts had no future. He said that parents and teachers must play their role to keep young people away from drugs and our youth must also keep themselves aware of repercussions of use of narcotics. He also detailed various tips to avoid use of drugs and manage stress. In his welcome address, Dr Nadeem Sheikh said that narcotics were attack on our country and society and our youth were being targeted. On this occasion, a song prepared by ANF was also screened against use of narcotics.