LAHORE: (Wednesday, May 10, 2017): Federal Minister for National Food Security and Research Sikandar Hayat Bosan has said that the government was focusing on adoption of modern practices and technology in agricultural sector to boost country's economy. He was addressing national agribusiness conference on 'Green Punjab and CPEC' organized by Punjab University Institute of Agricultural Sciences at Crystal Hall, Pearl Continental Hotel on Wednesday. Punjab University Vice Chancellor Prof Dr Zaffar Mueen Nasir, Dean Faculty of Life Sciences Prof Dr Naeem Khan, Director Institute of Agricultural Sciences Prof Dr Saleem Haider, President Lahore Chamber of Commerce and Industry Abdul Basit, Chairman Pakistan Crops Protection Association Saad Akbar Khan, Additional Secretary Agriculture Punjab Dr Ghazanfar Ali, representatives of various firms dealing in agri-business, faculty members and a large number of students were present on the occasion.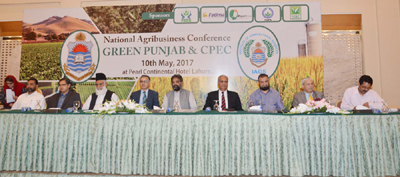 Addressing the ceremony, Mr Bosan said that agriculture was central to robust our economic growth, development and alleviation of rural poverty. He said that CPEC was a golden opportunity to enhance agricultural exports and generate revenue. He said that as per a rough estimate, we had around 8 lakh agribusiness firms working in different sectors of our country and there was a dire need to strengthen them. He said that agribusiness firms needed to explore other ways to maximize profit like exploitation of niche markets, product innovation, market segmentation, targeting specific customers, and product differentiation. He said that our inability to realize full potential was rooted in a number of contributing factors, including: slow adoption of technology and modern practices, inefficient management, infrastructural and supply-chain bottlenecks, financing, economic and policy lapses. He said that free flow of information, related product attributes, increasing sources of raw materials, competitors and customer characteristics are enigma of a developed agribusiness sector. As a result, an information intensive food production system has emerged at global level, he added. "The global trends in agribusiness have also changed as the traditional practices in agriculture seem obsolete today. Now global market is more concerned with delivering customer value and diversification rather than increasing quantity of production only. Today's consumer is also more conscious of a number of product attributes before making a decision about the product like low nutritive value, good taste, convenient packaging, easy availability and "Green" products," the minister said. Mr Bosan stated further that the Ministry of National Food Security and Research continued to help boost sustainable agricultural development in collaboration with all stakeholders and heavy budget had been allocated for the livelihood, uplift and betterment of the country's farmers.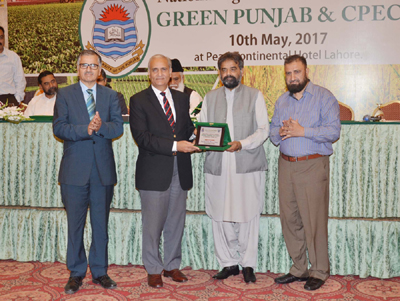 PU Vice Chancellor Prof Dr Zaffar Mueen Nasir said that Pakistan had excellent export potential in agri-business. He said that the labor cost was still low in Pakistan however we have to be competitive in international market and provide quality products at reasonable rates. He said that Punjab University was developing strong linkages with industry and an incubation centre had also been established at Institute of Agricultural Sciences. President LCCI Mr Abdul Basit said that Pakistan could become food basket for the world if we paid proper attention to agri-sector as 80 percent of our industry was connected with agricultural. He said that we must remove deficiencies and make wise policies to uplift agri-businesses. He said that the volume of global Halal food business was around 300 billion dollars and we had a very low share in that. He said that we must take steps to get at least 10 percent share globally in Halal food business. Mr Saad Akbar Khan urged the need to build dams for resolving water problems for agriculture. He appreciated the federal minister for supporting farmers and taking steps for the betterment of farmers' community. Additional Secretary Dr Ghazanfar Ali said that the Punjab government announced 50 billion rupees Kisan package to help farmers. He said that Punjab government was introducing modern techniques in agriculture sector. Director IAGS Prof Dr Saleem Haider said that the institute had established relations with various industries for the development of agricultural sector. He said that IAGS was playing its role in providing modern research and talented human resource in various sections of agri-business. He said that this national conference had been organized to highlight effects of CPEC on our agricultural industry and how we could benefit from this golden opportunity to enhance our agricultural products. He said that the conference had also provided an opportunity to share knowledge and experiences with each other.