Jhelum: (Thursday 18th May, 2017): As per the vision of Worthy Vice Chancellor Dr. Zaffar Mueen Nasir and directions of Respectable Administrator Dr. Muhammad Mudasar Ghafoor, Punjab University Jhelum Campus has organized a Inter-Collegiate Naat Competition on 18th May 2017 at Seminar Hall, Academic Block I PUJC. All the colleges of district Jhelum were invited for participation. The purpose of this competition is to highlight and introduce PUJC at different academic forums. Honorable Dr. Hassan Mobeen Alam, Dean Faculty of Commerce was invited as a distinguished guest.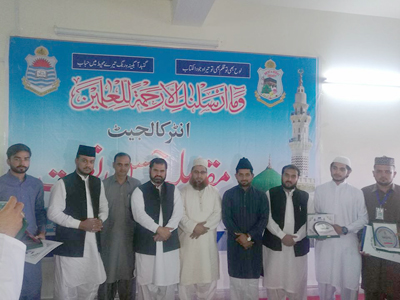 While addressing to the guests and students Dr. Muhammad Mudasar Ghafoor briefed about the vision of Worthy Vice Chancellor and steps he has taken and will take in future to make PUJC a centre of Quality Higher Education at National and International levels. He stressed students to follow the teachings of Quran and life of our beloved Prophet Hazarat Muhammad (PBUH), that is the only way to get success in your life and hereafter. Dr. Mudasar ended with a note of thanks to all the guests and remarked that their corporation will be fruitful for PUJC.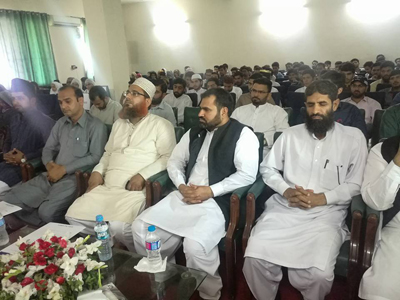 Dr. Mudasar Ghafoor congratulates all the faculty members and students for making this event successful especially to the members of Naat and Qirat Society who are the main organizers of this event. He also express his gratitude to the judges Prof. Dr. Muhammad Ashfaq Jalali, Nasir Altaf, Amir Afzal Chishti, and Guests Naat Khaw Kazim Ali Madni for coming to PUJC and awarded them the honorary shields.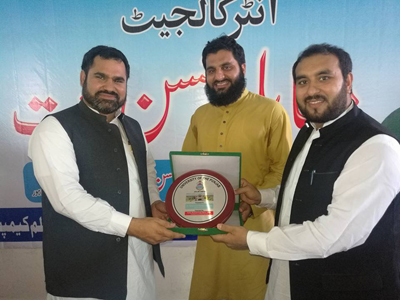 Judges remarks were very positive about the arrangements and the participants. Result of this competition is as follows:
Hafiz Abdul Mateen : 1st
University of the Punjab Jhelum Campus
Hassaan Ali Abbas : 1st
Punjab College of Commerce Jhelum
Tehseen Javed : 2nd
University of the Punjab Jhelum Campus
Mudassar Riaz : 3rd
Govt. Degree College Sarai Alamgeer
All the above students are awarded with shields, certificates and cash prizes. All other participants are awarded with certificates.