Jhelum: (Friday 19th May, 2017): First time in the history of University of the Punjab, Jhelum Campus (PUJC) job fair was conducted on campus by a Multinational company that is Oppo Mobile Technologies Pakistan (Private) Limited.
All credit goes to the visionary approach of Administrator Dr. Muhammad Mudasar Ghafoor for establishing a platform to bring out such productive activities which will benefit students as well as PUJC. Dr. Mudasar express his gratitude to the Management of OPPO especially to Mr. Wei Libin (Regional Manager), Mr. Shan Zhang (Regional Manager), and Mr. Taimoor Azhar (Branch Manager) for arranging such a healthy activity for the students of PUJC.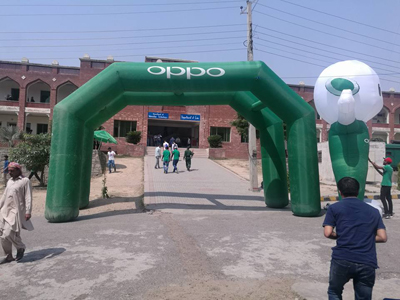 The day started with a seminar where Mr. Fraz Ashraf Khan welcomed the management of OPPO Mobile and honored them for arranging fruitful activity. He also highlights the importance of Pak-China friendship and how students can cash that relation and build their career.
In-spite of language barrier Mr. Shan Zhang addressed the students in English Language in a decent way and encouraged them to become part of the OPPO Family. He highlights the culture that they are providing to their employee and how students can get benefit from them.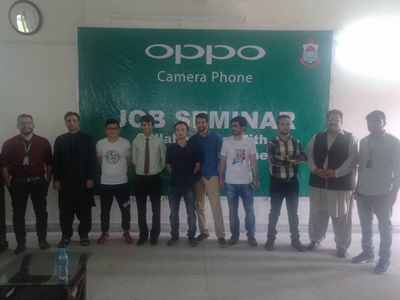 Mr. Taimoor Azhar also shared story of his life that how he become part of OPPO family. He introduced the various vacancies OPPO has and how students can get benefit from these vacancies. Questions Answers session was also conducted during the seminar and students were rewarded with the gift hampers from OPPO team.
Mr. Fraz and Mr. Tabassum Riaz awarded the honorary shields to the OPPO Management Team. After that interviews started and good number of students settled down in the waiting rooms.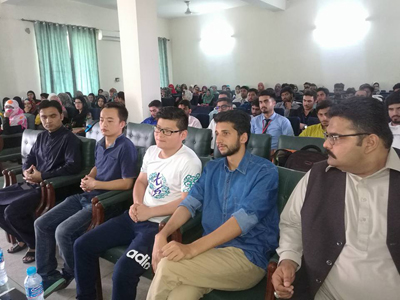 Almost 9 'o' clock at night interviews finished. Mr. Fraz, Mr. Tabassum and Mr. Haroon Iqbal express their gratitude to the OPPO team and with a positive remarks from both sides to carry on such kind of activities in future as well.