LAHORE: (Thursday, August 10, 2017): In connection with the Independence Day celebrations Punjab University Pakistan Study Centre organized seminar on "Pakistan at 70: Challenges and Opportunities". PU Vice Chancellor Prof Dr Zaffar Mueen Nasar, Professor Emeritus Department of Political Science Dr Hasan Askari Rizvi, Former Dean University of Sargodha Prof Dr Rasheed Ahmed Khan, Acting Director PSC Dr Amjad Abbas Magsi, senior faculty members and students were present on the occasion.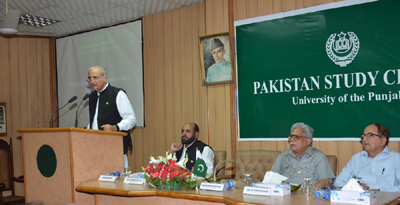 In his address Prof. Dr. Zaffar Moeen Nasar threw light on the economic development of Pakistan in last 70 years. He said that comparison of Pakistan's economic situation of 1947 and 2017 shows a big difference as service and industrial sector was growing. He said that our social sector is being affected by lower spending on development sector. "We need to improve our social sector-health and education for better development in the country. The 3Ds of economics; Development, Defence and Debt Services must be set in the right order."
He stressed that we need to set our priorities, made our industrial policies and define our pioneer industries. He said that we should need to change our development policies that will be equitable and will bring prosperity and nationalism in country. He proposed a development model for development which will provide equal opportunities to all which will result in enhancement of solidarity, prosperity and nationalism in the country. CPEC is a game changer which is bringing great potential for investment in the country. We have to create stability and conducive environment for economic vibrancy in the country.
Prof. Dr. Hassan Askari Rizvi in his keynote speech said that we as a nation has to focus on three aspects. First one is we need to pay tribute to people who have sacrificed a lot for establishment of Pakistan. Secondly we need to examine the achievements of Pakistan in last 70 years. Despite the roller coaster of democracy and change in government, Pakistan has made a substantial achievement in fields of industry and defense. We need to recognize the deficiencies, difficulties and failures of Pakistan. As quality of democracy is poor, governance issues and socio-economic injustices are major problems of Pakistan. He stressed upon that it is need of time that youth of our society has to focus on above mentioned problems in more harmonious and participatory manner. Institutions must be strengthened for service delivery to the people. Democracy is meant to serve the people.
Dr. Rashid Ahmed Khan in his keynote speech focused on "Future of Pakistani Democracy". He said that Pakistan was achieved through democratic struggle. Democracy is therefore in the blood of Pakistan. But the people of Pakistan had to wage a very arduous struggle for securing democracy in the country. This struggle has been a story of intense tussle for power between the democratic and authoritarian forces. Democracy in Pakistan is one of the most important concern of Pakistani people. Democracy in Pakistan has strengthened over 70 years because of many factors. Some of them are that there is no cold war scenario, no alliance system, globalization. But in Pakistan democracy still faces challenges which are regional disparity, regionalization of Pakistani politics, rural-urban disparity, flaws of governance (transparency, rule of law and participation is absent) last but not the least is rise of extremism and terrorism.
In his welcome note, Acting Director Dr. Amjad Abbas Magsi said that Pakistan has been stepping up in the 71st year by completing its seventh year of its establishment. In history of nations seventy years stand for nothing, centuries are needed for states to reach the bamboo height in the formation phase. Where we should celebrate the seventh year of Pakistan, we need to look at our national journey for seventy years. Those nations who won independence after us are in the category of developed nations just due to their hard work and sincere leadership. There is no doubt that we are facing political instability and terrorism, but we have to make Pakistan a developed nation by our hard work and efforts. "We should not allow internal and external problems to become a hurdle in development of Pakistan. The need of time is to work hard rather than to feel sorry over problems." The vice chancellor also cut a cake to begin the celebrations of the 70 th Independence Day celebration. Now all departments and hostels would organize different events in this connection.
Separately, the vice chancellor planted a tree in connection with a tree plantation campaign in the university.