LAHORE (September 7, 2017): Punjab University Vice Chancellor Prof Dr Zafar Moeen Nasir has announced that a team of PU scientists has invented three new high yielding BT cotton seed varieties which are disease resistant, insect resistant and drought tolerant. He made this announcement during prize distribution ceremony organized in the honor of position holders of B.A./B.Sc annual examinations 2017 at Al Raazi Hall here on Thursday.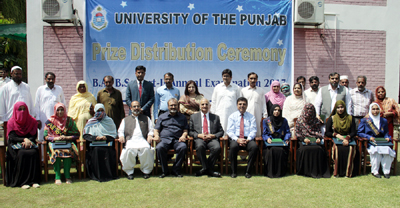 PU Controller of Examinations Prof Dr Shahid Munir, Registrar Dr Muhammad Khalid Khan, Dean Faculty of Engineering and Technology Prof Dr Muhammad Taqi Zahid Butt, Dean Faculty of Science Prof Dr Shahid Kamal, additional controllers of examinations Raja Shahid Javed, Rauf Nawaz, position holder students, their parents and teachers were present on the occasion.

Addressing the ceremony, Dr Zafar Moeen Nasir said that these BT cotton seeds were weedicide resistant and insect resistant and it was country's first genetically-modified cotton seed. He said that these varieties had been developed using modern molecular genetic engineering and DNA cloning techniques. He said that 8 international companies have shown interest in purchase of these varieties. He said that PU scientists including Dr Tayyab Husnain, Dr Idrees Nasir, Dr Ahmed Ali Shahid, Dr Kausar Malik, Dr Bushra Rashid and Dr Abdul Qayyum have made contributions in development of these BT cotton seed varieties which were called CEMB-33, CEMB-Klean Cotton and CA-12. He said that genetically modified BT cotton seed varieties would be commercialized through seed marketing companies for use in Pakistani agriculture sector to generate additional revenue for university. The PU VC said that it would contribute Rs 144 billion in the country's economy. He said that PU was playing its role for country's socio-economic development. Congratulating the position holders, he said that the poor girls had clinched top positions in BA/BSC annual examinations and we must appreciate them for their hard work.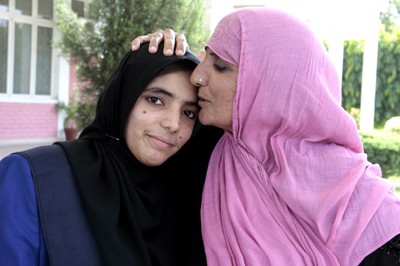 He announced that PU would waive off fee for toppers and they would also be provided with PEEF scholarship worth 75 thousand. He also announced Rs one hundred thousand, Rs 75,000 and Rs 65,000 prize for first, second and third position holders respectively. Controller of Examinations Prof Dr Shahid Munir said that PU had started split BA/BSc in two parts and after many years, courses had been revised at bachelor's and master's level. He said that it was the biggest examination in the history of Punjab University in which 229,401 candidates had appeared. He said that on the instructions of the vice chancellor, the examination department was moving toward digital revolution to help candidates. He said that PU would start online admissions and verification systems and one window cell would also be inaugurated soon.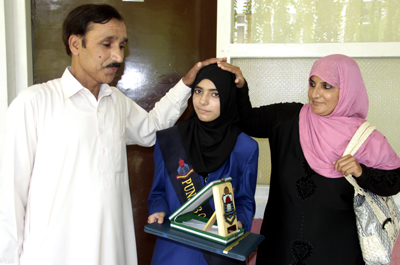 Talking to media, Dean Faculty of Life Sciences Prof. Dr. Muhammad Naeem Khan said the PU team had developed these disease resistant, insect resistant and drought tolerant varieties by incorporating various useful, novel genes in cotton seeds at the Centre of Excellence in Molecular Biology (CEMB). He said that the new BT cotton seed varieties would be made available to the selected farmers of Punjab for commercial use from next sowing season.