LAHORE: (Monday, September 11, 2017): Punjab Minister for Higher Education Syed Raza Ali Gilani has said that China Pakistan Economic Corridor would guarantee socio-economic development of Pakistan and time would come when 1 dollar would be equivalent to 2 Pakistani rupees. He was addressing international conference on China-Pakistan Economic Corridor (CPEC) political, economic and social perspectives organized by Punjab University Department of History & Pakistan Studies at Al Raazi Hall here on Monday. PU's Acting Vice Chancellor Prof Dr Taqi Zahid Butt, Director General Punjab Higher Education Commission Dr Shahid Soroya, Dean Faculty of Arts and Humanities Prof Dr Iqbal Chawla, Vice Chancellor Benazir Shaheed Bhutto University Peshawar Prof Dr Razia Sultana, Director History Department Nanjing University China Prof Dr Yu Wenjie, Vice President Nanjing University, Xianlin Campus Dr Zhu Qinbao, Dr Mahboob Hussain, researchers from abroad and various parts of country, faculty members and a large number of students were present on the occasion.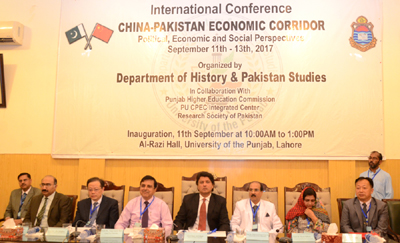 In the conference, Prof Dr Taqi Zahid Butt announced the establishment of CPEC Integrated Centre at PU. Addressing the ceremony, Syed Raza Ali Gilani said that CPEC was multidimensional projects with its road links linking all the provinces and territories into a close-knit economic unit. He said that in 2004, the government had conducted a study which suggested that the money collected through toll from the route only would be equivalent to the total budget of Pakistan at that time. He said that another finding of the study was Pakistan would witness rapid economic growth and Pakistan's 1.5 to two rupees would be equivalent to one dollar. He said that CPEC would really be a game changer for Pakistan. He said that there were only 67 berths in UAE port while Gawadar would have 120 berths thus one could imagine the volume of economic activities and development in Pakistan. He said that Mian Nawaz Sharif and Mian Shahbaz Sharif had envisioned a stronger and highly prosperous Pakistan and we could see actualization of their vision through CPEC. He said that China was playing his role for Pakistan's development but unfortunately some people were fanning baseless propaganda for the sake of political point scoring. He said that China had taken head-on position with many countries for Pakistan which was a proof of strong relations between both the countries. He said that Pakistan's intelligence agency ISI was number one intelligence agency in the world and it meant that Pakistani nation was also number one in intelligence in the world. "We are no more third world. Now we are future of the world and time will come when Pakistani will rule the world," the minister said. He stated in the next four or five years, Pakistan's socio-economic sectors would improve manifold and our development graph would be very high.

Addressing the conference, Acting Vice Chancellor Prof Dr Taqi Zahid Butt announced establishment of CPEC Integrated Study Centre at PU. He said that this centre would serve as a platform for gathering and dissemination of important evolving and latest information about the development relating to the CPEC. He said that it would also serve as a catalyst for developing ever-closer ties between Pakistan and China through frequent exchange of scholars, researchers, academicians and specialists in related areas. Director General PHEC Shahid Soroya said that CPEC was an opportunity as well as a challenge. He said that there were two important challenges in CPEC project i.e. provision of skilled force and development of human resource. He said that PHEC had taken up these issues seriously and we would set up technology universities and PHEC was signing MoUs with Chinese universities for exchange programs. Nanjing University Vice President Prof Dr Zhu Qingbao said that we would discuss important academic issues in the conference and efforts were being made to enhance cooperation between the great neighbours. He said that we need to advance practically and work collectively in the fields of archeology, culture, history etc. Ms Razia Sultana said that Pakistan and China enjoyed around 68 years long friendship. She said that CPEC would not prove East India Company rather it must be understood as game-changer for Pakistan. She said that CPEC project would boost four major sectors in Pakistan including transport infrastructure, energy sector, industrial development and Gawader port. She said that the country would also earn huge revenue through tourism. She said that Gawader's development would lead to Pakistan's development. She said that the government must take all stakeholders on board on CPEC project and ensure peace in Pakistan. She said that CPEC was a global project and from Kashghar to Gawadar road was actually the road to development. Dean Faculty of Arts and Humanities Prof Dr Iqbal Chawla said that the two-day international conference would provide an important platform for renowned historians, economists and social scientists from China, England, Poland, Australia and Pakistan to deliberate, discuss and analyze important aspects of the CPEC. He said that it would provide the participants a great opportunity to interact with each other and discuss various offshoots of CPEC project with open minds and hearts. The conference would continue today.