Students of the Gender Studies Department, University of Punjab, holds seminar on "Role of Women in Peace Promotion" under the aegis of Center for Health and Gender Equality (CHANGE) on December 6.
The seminar was addressed by Salman Abid, Regional Head SPO, Popular Political Analyst, Dr Raana Malik, Head of Gender Studies Department, Saba Hakeem, Representative CHANGE and students.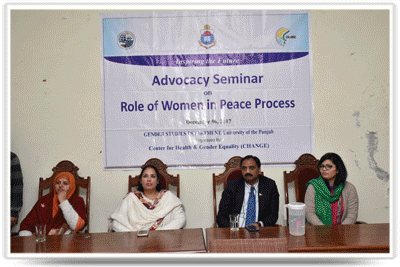 On this occasion the student's highlighted role of women in the history of Pakistan that how they have contributed not in the formation but the development as well by quoting examples. The students also presented a short drama with the message of tolerance and acceptability. It beautifully presented that how our words can influence others lives and how we can play our part in taking them out of that frustration that leads towards extremism.
Later on, Salman Abid emphasized on the role of women by saying
"Women cannot be labeled to monochromatic roles rather they can perform well with their diversified skills in promoting peace."
He added that
"Women are the major stakeholder in the peace process and their inclusion would bring outstanding results."
Dr. Rana Malik in the end thanked all the participants for their efforts. She appreciated the students for thinking to this level and coming up with such though provoking ideas. She also talked about the topic and emphasized on the role of women in peace promotion.