Best Paper Award to Dr. Naveed Iqbal Chaduhry at the 1st National SMEs Conference held on May 25, 2016 at the Hotel Pearl Continental, Lahore
Best Paper Award to Dr. Naveed Iqbal Chaduhry at the 1st National SMEs Conference held on May 25, 2016 at the Hotel Pearl Continental, Lahore
Research paper of Dr. Naveed Iqbal Chaudhry and his students, has been selected as the best research paper out of 50 papers received and presented from all over the Pakistan at the 1st National SMEs Conference arranged by SMEDA and HEC. Authors have been aw arded with certificate and cash prize of RS20,000.
The said paper is tilted as " Analyzing the Interaction among Factors Hindering the Growth of SMEs: Evidence from the Cutlery Sector of Pakistan". This study was aimed to consider different aspects that inhibit the growth of SMEs in the cutlery sector of Pakistan. By using interpretive structural modeling (ISM), this research gave a hierarchical structure and the reciprocal relationships among those barriers which hinder the progress and development of the SMEs.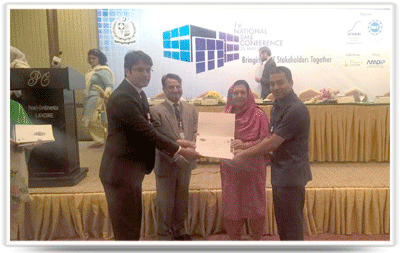 Dr. Naveed Iqbal Chaudhry is working as Incharge Department & Assistant Professor at the Department of Business Administration Gujranwala Campus. The researcher has been congratulated by the Worthy Vice Chancellor and Director General of Gujranwala campus on his achievement of excellence in research.