LAHORE: (Friday, December 22, 2017): Punjab University Acting Vice Chancellor Prof Dr Taqi Zahid Butt has said that justice, education and training are vital to establish peace and promote culture of tolerance in our society. He was addressing peace seminar and inauguration of weeklong campaign to pay homage to the martyrs of Army Public School organized by PU Centre for Clinical Psychology in collaboration with Punjab Higher Education Commission at Al Raazi Hall here on Friday.

PHEC Director General Dr Shahid Soroya, senior Defense Analyst Brig (r) Ghazanfar Ali, senior journalist Salman Abid, Dean Faculty of Life Sciences Prof Dr Naeem Khan, Director Centre for Clinical Psychology Prof Dr Rukhsana Kausar, faculty members and a large number of students were present on the occasion.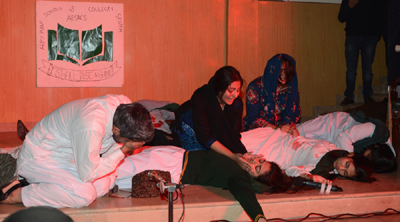 The students presented a tableau to show the brutality of coward terrorists and the courage of martyrs and their relatives during the seminar. Addressing the ceremony, Dr Taqi Zahid Butt said that the scope of justice is not limited to the courts only rather social justice and a man's obligation to do justice with the other man was also very important. He said that we usurp rights of others while standing in queue, on traffic signals etc and we refused to accept others' rights in many social matters. He said that we could not weed out extremism unless we train our students at school level. He said that ignorance could only be eliminated when we would focus on training along with education. Addressing the ceremony, Brig (r) Ghazanfar Ali said Pakistan Army was the best and the most professional Army in the world and our future was very bright. He said that a proxy war had been imposed on Pakistan and we must recognize our real enemy. He said that foreign powers were making efforts to create religious division in Pakistan and we must understand and counter their conspiracies. He said that we must promote positive thinking and our students should play as change agent in our society. Dr Shahid Soroya said that December 16 was an important day in the history of our country and we must learn lessons from the incidents happened on that day. He said that PHEC was playing important role to promote positive and healthy activities in the universities. He said that in this regard, a meeting of vice chancellors was organized by PHEC because narratives were constructed in the universities. He said that students come to universities to get degrees and we must provide training to them. He said that student societies could play important role in promotion of positive activities. Senior analyst Salman Abid said that National Action Plan was a historical document and academic institutions had important role to play in it. He said that Army was doing its work and had eliminated most of the terrorists. He called upon the need to work on change in mindset. He said that social media must be used positively. Later, PU Acting VC Prof Dr Taqi Zahid Butt led a walk from Al Razi Hall to VC office to pay homage to the martyrs of Army Public School.