LAHORE: (Thursday, May 10, 2018): Punjab University Center for South Asian Studies (CSAS) has organized an inaugural ceremony of book title "Jang-e-September Ki Yadain by Altaf Hassan Qureshi" on Thursday in its auditorium. Director CSAS Prof Dr Umbreen Javaid, Justice (r) Faqir Muhammad Khokhar, Major (r) Muhammad Amir, Ms Bushra Rehman, Prof Shabbir Ahmed Khan, Altaf Hassan Qureshi, faculty members and students were present on the occasion.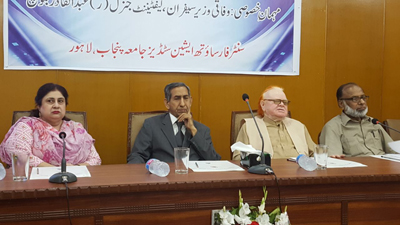 The speakers appreciated the efforts of Altaf Hassan Qureshi in elaborating the historical context of the Indo Pakistan war of 1965. They said that this book is master piece in the memory of 1965 was and depicts the spirit of nationalism and enthusiasm of Pakistani nation as a whole.
The guests highlighted the various segments of the book and maintained that the author has given a detailed analysis of the basic causes of the conflict between India and Pakistan.