LAHORE: (Tuesday, November 24, 2015): Punjab University Vice Chancellor Prof Dr Mujahid Kamran has said the Muslims are paying high cost of ignorance and lack of knowledge and genocide of the Muslims is going on. He was addressing in a session of Pakistan's biggest three-day conference on education titled "International Conference on Research in Education (ICORE 2015)" organized by Institute of Education & Research (IER) at Faisal Auditorium.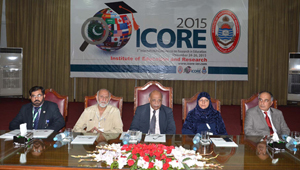 The conference was attended by Dean Faculty of Education Prof Dr Mumtaz Akhter, Dr Rafaqat Ali Akbar, Dr Ahsan, experts from various countries and Pakistan and a large number of students. Addressing the ceremony, Dr Mujahid Kamran said in the recent Afghan War, around 4.9 million Afghans had been killed out of which 1.2 million were killed in bombings etc and 3.7 million Afghans died of diseases and lack of medicines till 2010. He said that 2.7 million Iraqis were killed in the recent Iraq War and 5 million children had become orphan. He said that both the wars were imposed on the basis of false pretext. He said that our governments in the past did not give appropriate attention to education.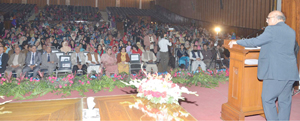 He said that focusing on education was a matter of understanding for both the leadership and the people. He said that America's GDP was around 17 trillion and it spent 2 to 3 percent i.e. 340 to 510 billion dollars on research and development per year while Pakistan had a GDP of around 250 billion dollars only and was spending only 0.2 percent on research and development per year. Keynote speaker Dr Ahsan stressed the need to establish peace education institutions based on ground realities. He said that peace education must be a part of our overall education system. Dean Faculty of Education Prof Dr Mumtaz Akhtar said that IER had set new trends and improving education system in Pakistan. She thanked PU VC Dr Mujahid Kamran for his support in promoting research and other academic activities in the institute.