LAHORE: (Wednesday, December 2, 2015): Punjab University Vice Chancellor Prof Dr Mujahid Kamran has said that there is no alternative to positive thinking and teachers must work together for promotion of education. He was addressing inaugural session of two-day 2nd international conference on engineering sciences organized by Institute of Chemical Engineering & Technology at Al Raazi Hall here on Wednesday.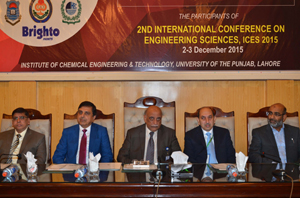 On this occasion Prof Dr. Ihtesham ur Rehman from UK, Dean Faculty of Engineering and Technology Prof Dr Taqi Muhammad Taqi Zahid Butt, Director ICET Prof Dr Amir Ijaz, Principal CEET Prof Dr Rafiq Ahmad, senior faculty members scholars from abroad and Pakistan and a large number of students were present.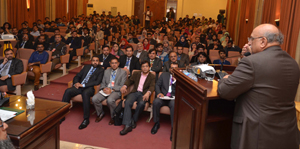 Addressing the ceremony, the PU VC stressed that students should not focus on getting high scores only but they should aim at learning knowledge but no one could become knowledgeable without the strength of character. He said that knowledge was headspring of power. The vice chancellor emphasized that we have to produce knowledgeable and practical professionals. He also stressed that should work together in collaboration with each other so that the country find it solution of its problems. The Prof Dr. Ihtesham ur Rehman talked about new challenges in bio-materials. He said the country had all resources to carry out research in this area. Dr Taqi Zahid Butt said that ICET has produced many professionals who were working in practical life for the betterment of country. Dr Amir told that there will be 10 technical sessions in three parallel streams in which 52 presentations on topics covered chemical engineering, safety, energy, materials, water, environment etc. The conference is sponsored by PU, Brighto Paints and HEC.