LAHORE: (Friday, May 12, 2017): Punjab University Vice Chancellor Prof Dr Zaffar Mueen Nasir has urged the students to keep Pakistan's flag high by fulfilling their responsibilities. He was addressing the fourth degree awarding ceremony of University College of Pharmacy at a local hotel here on Friday. Dean Faculty of Pharmacy Prof Dr Khalid Hussain, Principal College of Pharmacy Prof Dr Nadeem Irfan Bukhary, Registrar Dr Muhammad Khalid Khan, Dean Faculty of Engineering and Technology Prof Dr Taqi Zahid Butt, senior faculty members and a large number of students were present on the occasion.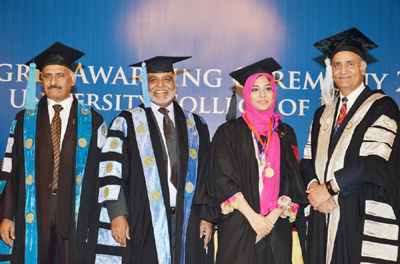 Addressing the ceremony, Dr Zaffar Mueen Nasir said that we needed to create competitive environment in our academic institutions. He said that the incumbent Punjab University administration was focusing on promotion of research on campus and incentive awards had been announced for faculty members in order to encourage them to do quality research. He said that some extremist elements were trying to disrupt peaceful environment in the universities therefore we need to promote peace, harmony and culture tolerance to counter such negative elements. He asked to students to serve the country with the passion of patriotism.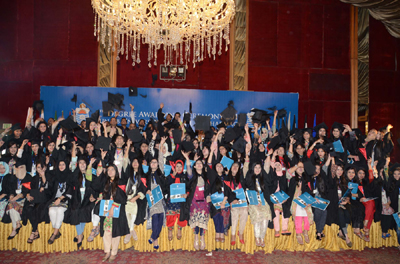 Dean Prof Dr Khalid Hussain said that the students of eight countries had also graduated from the college this year. He said that impact factor publications of the faculty members of the college were increasing every year. He said that recently, the college had won three projects Higher Education Commission of Pakistan. Principal Prof Dr Nadeem Irfan Bukhary said that the college was providing best teaching and research facilities to the students. He said that the college administration has started a program to provide practical training to its students. He said that we were also focusing on character building of our students. He said that the three laboratories of the college were also being upgraded. As many as 109 degrees of Pharm D were distributed among the newly graduated students. Later, souvenirs were distributed among the distinguished participants.