New admissions for the year of 2017-18 open at the Institute of Administrative Sciences (IAS) for Master of Human Resource Management (Regular/Self-Supporting Program) and BS (4 years) in Management (Regular/Self Supporting) program from 18th- 28th September 2017 as per policy of the University of the Punjab. Admission forms are available from Monday-Saturday during the office hours 8:00 a.m. to 4:00 p.m. Befitting arrangements have been made by the institute to facilitate candidates aspiring to take admission at IAS.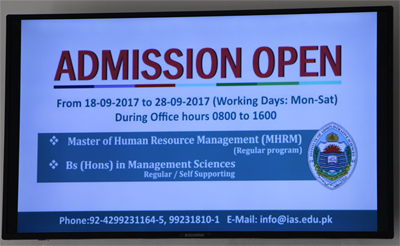 In this regard, the inauguration of the Digital Notice Board took place on 18th September 2017. The Digital Notice Board is an exciting and new innovation to acquire information of the Institute. The Digital Notice Board displays activities related to new admissions, timetables, Institute events and news are constantly updated to keep the students and visitors up to date on all the activities that take place at Institute.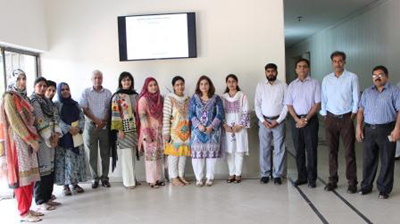 Director IAS, faculty members including Mr. Mubeen Khalid, Mr. Muhammad Zahid, Dr. Nighat Ansari, Dr. Amani Moazzam, Dr. Yaamina Salman, Dr. Sidra Irfan and admin staff Col. Muzaffar Ali, Mr. Shahzad Ahmad Siddiqui, Ms. Rifat Afzal, Malik Arif & Ms. Sidra Rashid were present at the occasion. Later that day, Dean and her staff visited the institutes/departments in the Faculty of Economics & Management Sciences to see the admission arrangements.