LAHORE: (Thursday, May 5, 2016): Renowned spiritual leader, author and TV personality Sarfraz Shah inaugurated Pakistan's largest three-day book fair organized by Punjab University administration at the corridors of Institute of Education and Research here on Thursday. PU Vice Chancellor Prof Dr Mujahid Kamran, Registrar Prof Dr Liaqat Ali, Principal PU Law College Dr Shazia Naureen Quresi, Resident Officer-I Prof Dr Sajid Rashid Ahmad, Resident Officer-II Malik Muhammad Zaheer, Director Institute of Education & Research Prof Dr Mumtaz Akhter, deans, senior journalists and intellectuals including Dr Mujahid Ali Mansoori, Irshad Ahmad Arif, Salman Ghani, Taufiq Butt, Dr Ajmal Niazi, Najam Wali Khan, Sajjad Mir, Hafeez Ullah Niazi, Sofia Baidar, Mian Habib, faculty members, students and people from all walks of life were present on the occasion.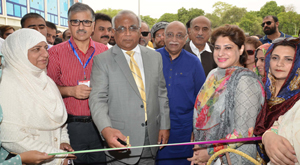 After inaugurating the book fair, Mr Sarfaraz Shah along with distinguished participants visited various stalls and lauded the efforts of PU administration for providing books on discounted rates.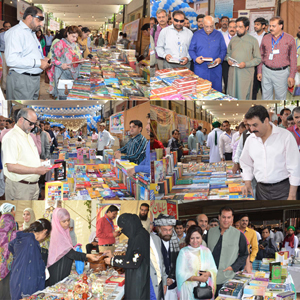 Talking to media, PU VC Dr Mujahid Kamran called upon the government to subsidize books in order to promote reading habits in the country. He said that presence of books in every house would promote reading habits among children as well. He said that Muslims were facing problems due to their distance from books. He said that the development in technology had not reduced the importance of books rather according to facts and figures, the number of printed books had increased worldwide.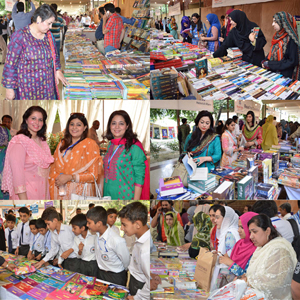 He said that reading books groomed consciousness and it was a must to read books to create new knowledge. Talking to media, senior professor of mass communication Prof Dr Mujahid Mansoori said that despite the emerging importance of electronic media, books had a pivotal role to play in formation of a society and commended the efforts of PU administration in organizing such a mega event to promote reading habits. Senior journalist Irshad Ahmed Arif said that books were important in the lives of nations and societies. He said that the societies which were interested in books would advance towards bright future while holding their pasts.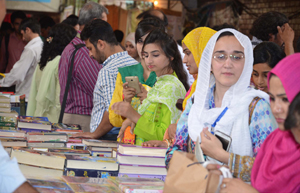 He said that it was a nice effort by PU administration to make relationship of society with books stronger and PU VC Dr Mujahid Kamran deserved a huge applause. Senior journalist Salman Ghani said that organizing such a mega book fair was a service to the nation. He said that book was a source of bring positive change in society and kept societies alive. He said that we need such types of books today which could promot unity and tolerance in our society. He said that due to our distance from books, extremism and terrorism had promoted in our society and had created hurdles in the progress of our country. He said that being Muslims, we were associated with a book and we must follow it for our salvation. Senior columnist Taufeeq Butt said that after seeing a huge number of teachers, students and people from all walks of life in the book fair, the impression that internet had reduced the importance of book did not seem true. He said that centuries ago, when there was no internet or any other such facility, major inventions were made on the basis of books.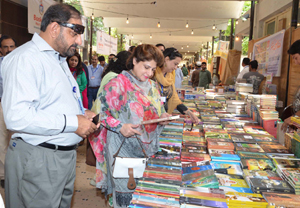 He said PU VC Dr Mujahid Kamran had brought PU to the new heights in the world by promoting such academic activities in PU. Renowned columnist Dr Ajmal Niazi said that the book fair was a proof that there was a strong connection between books and young people. He said that people still loved books and that's why they were taking great interest in the book fair. He said that books were like houses and we must live in this house. Senior TV anchor Najam Wali Khan said that it was a mega event of its nature and we could connect society with books by providing books at discounted price. On the first day of the book fair, a large number of people thronged book stalls and purchased books of their interest on reasonable rates. Upto 70 percent discount is being provided in the book fair. The book fair would continue till Saturday May 07.