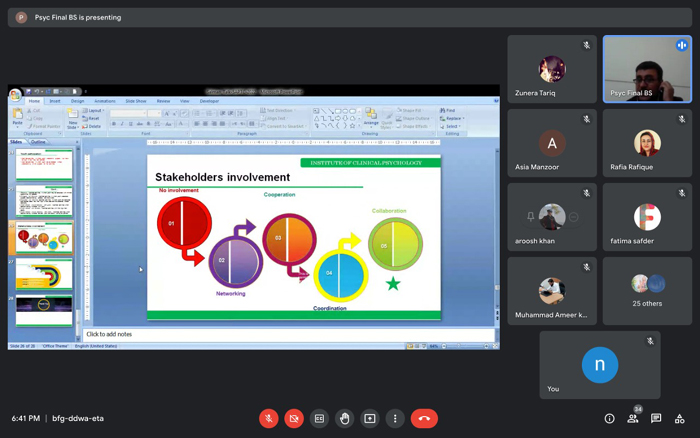 Institute of Applied Psychology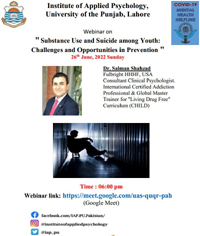 arranged an enlightening webinar on "Substance Use and Suicide in Youth: Challenges and Opportunities in Prevention" on 26th June, 2022 as celebrating the Worldwide International Day Against Drug Abuse and Illicit Trafficking. The notable speaker for the webinar was Dr Salman Shahzad; who is an Fulbright HHHF, USA Consultant Clinical Psychologist/Clinical Incharge,
Associate Professor of Clinical Psychology
Incharge; Research and Training Unit for Prevention & Treatment of Substance Use Disorder Principal I; Substance Abuse Programs and Interventions in HEIs
International Certified Addiction Professional & Global Master Trainer-UTC
Global Master Trainer; The Child Intervention for Living Drug Free Curriculum (CHILD), Global Prevention Coordinator-UPC, Global DDR Trainer UNODC, Vienna,Institute of Clinical Psychology, University of Karachi, Pakistan. The webinar was chaired by director of Institute of Applied Psychology, Prof. Dr. Rafia Rafique, and moderated by Ms. Zunera Tariq. Dr Salman explained the psychological impact of Drug abuse and different risk factors that are associated with alcohol use in adolescents. He also talked about the different Preventive Programs and challenges in outer and inner context. The webinar was attended by a wide audience and ended with question answer session.