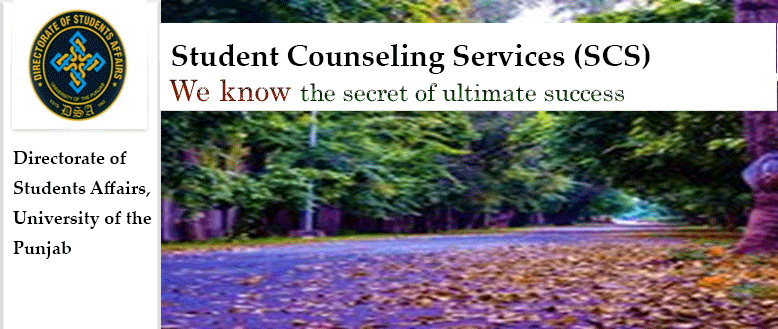 Who We are?

Student Counseling Services was established in 2008 by University of the Punjab Lahore. In 2009 its office was established in the premises of University Health Centre. The Directorate of Students Affairs facilitates the Counseling Services to University Students. As Directorate of Student Affairs coordinates the development of different services and programs and serves as an advocate for students needs across the University. Student Counseling Services is also one of such programs which help students to meet life's challenges with success.


Mission
Student Counseling Services promotes the personal, emotional and academic well-being of students and help them reach their full potential leading to a balanced and fulfilled life.

Goals

The main goal of counseling services is to provide a confidential, supportive and professional platform in the University premises where students can freely and openly share their problems with the student counselor and get professional help and guidance through counseling.




Our ultimate goal is to help our young students to be able to lead a happy, healthy and successful life.




If we truly wish to embrace the idea of accessibility of Higher Education to our youth then it is necessary that we provide them with the resources they require to succeed as a healthy individual of society by building their strong characters and channelizing their life goals.



Objectives

To support and guide students having problems in the areas of academics, social or emotional adjustment or any serious psychiatric problem.




To provide Counseling Services not only to Punjab University Students but also employees of University on special grounds..




To provide training programms to employees and students regarding different psychological perspectives like, Stress Management, Social Skills Training,Conflict resolution etc.




To support & provide psychological help to victims affected by any catastrophic situation such as accident, bomb blast, earthquake etc.
Copyright © 2020 -
IT Centre
, University of the Punjab, Lahore.