LAHORE: (Monday, November 23, 2015): Balochistan Chief Minister Dr Abdul Malik Baloch has said that to resolve the issues of the province once and for all, we need to change mindset otherwise no one would be able to control sixth rebellion in the province. He said that law and order situation in Balochistan had improved manifold and Quetta city used to be shut down after Maghrib prayers but now the markets remained open till 3am on the eve of Eid. He said that our leadership had made Balochistan's non-functional government functional and the government had started providing education and health facilities and job opportunities to the people. He said that the future of Balochistan was associated with mines and agriculture. The chief minister was addressing a national seminar organized by Punjab University and Pakistan Institute for National Affairs (PINA) at Al Raazi Hall here on Monday. Federal Minister for Planning and Development Ahsan Iqbal, Federal Minister for Railways Khawja Saad Rafique, Former caretaker CM Baluchistan Nawab Ghaus Bakhsh Baro'zai, Interior Minister Baluchistan Sarfraz Bugti, Baluchistan National Party's Ghulam Nabi Marri, former Federal Law Minister S. M. Zafar, PU VC Prof Dr Mujahid Kamran, Secretary General PINA Altaf Hassan Qureshi, Liaqat Baloch, Prince Ahmad Ali, Dr Atta Ur Rehman, senior journalists Mujeeb ur Rehman Shami, Atta Ul Haq Qasmi, Mujahid Brailvi, Sajjad Mir, Salman Ghani, Farrukh Sohail Goindi and Brig (r) Nadir Mir and a large number of students from Balochistan were present on the occasion.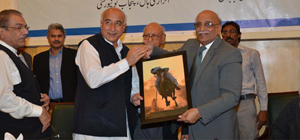 Addressing the ceremony, Dr Abdul Malik Baloch stressed the Balochistani students to get education as the government would provide them opportunities and utilize their talent. He said that recently the government had provided jobs to 5000 candidates through NTS, recruited 700 lecturers, 1200 SSTs and 30 engineers purely on merit. He said that the government would provide a specific share to the area which's resources would be utilized for provincial and national development. On the contrary, in the past, he said, the fruit of resources never reached the locals. He said that we would resolve all the problems of Balochistan within the national framework.

He said that when he took charge, his government prepared a document on the instructions of Prime Minister Mian Nawaz Sharif in which religious extremism, tribal wars and insurgency related issues were the top problems. He lauded Lt Gen (r) Nasir Janjua for playing positive role in establishing law and order in Balochistan. He said that the past provincial governments did not enjoy the support of federation and military for dialogue and that's why talks with insurgents were impossible. He said that both the federal and military leadership were supporting the present provincial government in dialogue process and we were ready to negotiate on all issues under the umbrella of Constitution and national security. He said that Balochistani people were highly sensitive and could not compromise over the issues related to identity and resources of their area. He said that we had initiated a dialogue process among different religious sects and requested their leaders to shun violence. He said that people who had left their areas had started returning because of the efforts of the government and state institutions.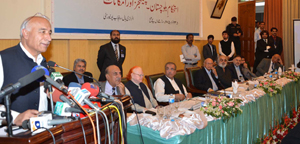 He thanked PU VC Dr Mujahid Kamran for provide free education, accommodation and monthly scholarships to Balochistani students. He announced that his government would give laptops to around 300 PU students from Balochistan. Federal Minister for Planning and Development Prof Ahsan Iqbal said that the development of Pakistan depended on stability and peace in Balochistan. He said that Allah had provided a golden opportunity to Pakistan in form of China Pak Economic Corridor to prosper and we must benefit from this mega project. He said that the secret of developed nations was continuation of their policies and political process. He said that because of the efforts of political leadership, Independence Day was celebrated in all the parts of Balochistan this year. He said that the government was trying to resolve the issue of water and constructing new dams in the province. He said that it was a good omen that Akhter Mangal tweeted that he donated 100 acres of land for establishing a university. He said that federal government would establish university on the donated land as well as other parts of Balochistan. He said that the Throne of Lahore had made many sacrifices for establishing peace in Balochistan. He said that work on the Western Route of CPEC was on fast track which had started opening new economic horizons for the development of Balochistan and its people. Federal Minister for Railways Khawaja Saad Rafique said that although Balochistan was the largest province of the country, it had never been given the due attention which it deserved. He said that Mr Abdul Malik and Lt Gen (r) Nasir Janjua had taken remarkable initiatives for establishing peace in Balochistan.

He said that Mr Malik was an honest person and for the first time he depoliticized police in the province and laid foundation stone of good governance. He said that the government would establish rail link from Quetta to Peshawar and the journey would be of 8-9 hours. PU VC Dr Mujahid Kamran said that education was the only solution to all problems. He said in the best interest of Balochistan, the PU administration decided to provide free education, accommodation and Rs 3000 monthly scholarship to each student from Balochistan in its all academic programs. He said that the students who had graduated from PU had obtained jobs in Balochistan. Interior Minister Balochistan Sarfraz Bugti said that today's Balochistan was far better than 2013's under the leadership of Dr Malik. He firmly stated that there was no military operation going on in any part of Balochistan and all the political leaders were organizing their political gatherings with independence. He said that civil and military leadership was on the same page and the role of Mr Janjua was commendable. He said that for the first time Independence Day was celebrated in Balochistan with zeal and zest. He also showed different pictures of Independence Day celebrations in the remote areas of Balochistan. Former caretaker Chief Minister Balochistan Nawab Ghous Bakhsh Barozai said that we must give preference to resolving issues being faced by the people of the province and we must make joint efforts in this regard. BNP's Ghulam Nabi Mari said that intervention in political process must be stopped forever as we wanted to see our province prosperous. He said that we must analyze situation of Balochistan honestly to resolve its issues. Mr SM Zafar said that Human Rights Commission of Pakistan had decided to award Human Rights award to Mr Abdul Malik on his services for betterment of human rights condition in his province. He said that the situation in Balochistan had started improving and Punjab would congratulate Mr Malik on removing problems of tribal system, bringing insurgents to mainstream and curbing corruption. He said that Quaid-e-Azam primarily focused on Balochistan in his 14 Points. Renowned journalist Ata ul Haq Qasmi said if we wanted to resolve problems of Balochistan, Mr Malik must remain its chief minister. He also lauded the efforts of Mr Janjua in establishing peace in Balochistan. Senior Journalist Mujeeb ur Rehman Shami said that the model of Punjab University in facilitating Balochistani students must by adopted by all other universities till the establishment of universities in Balochistan. He said that the federal and provincial governments should launch projects to use sea water to irrigate vast land of the province for its agricultural development. He said that situation in Balochistan had started improving and there was change in the way of thinking of the people. Senior journalist Salman Ghani said that Balochistan's real problem was feeling of deprivation and the bullet which was fired on Nawab Akbar Bugti injured the federation, democracy and stability of the country. He said that today's Balochistan was stabilizing because its chief minister was from working class.

He lauded PU VC Dr Mujahid Kamran for providing free education and other facilities to more than 300 Balochistani students. National Party's leader Tahir Bazinjo said that political and social injustices intensified problems of Balochistan and it would be right to see current situation instead of remembering bitter past only. Brig (r) Nadir Mir said that Gawadar's people would be the first beneficiaries of the port and Balochistani people would be the richest people of the country. Farrukh Sohail Goinddi said that Mr Malik had wisely used its wit and power for resolving issues of Balochistan. Senior journalist Mujahid Brelvi said that the post-2013 government alliance was bringing good results for the betterment of the province and this assembly was more transparent than the previous one and the credit goes to Dr Malik and his team. Dr Ata ur Rehman from Quetta said that thousands of people had lost their lives in Balochistan and the time had come to establish peace in the province. General Secretary PINA Altaf Hasan Qureshi said that PU and PINA were making efforts for inter-provincial harmony. He called upon the Prime Minister to visit Balochistan twice a month to remove feeling of deprivation of the people. Later, PU VC Dr Mujahid Kamran presented souvenirs to Dr Malik and other guests of honor.