LAHORE: (Thursday, March 24, 2016): Punjab University Academic Staff Association and University Health Centre in collaboration with Pink Ribbon Pakistan organized camps about breast cancer disease at Undergraduate Block and University Health Centre here on Thursday. On this occasion, Principal Law College Dr Shazia Qureshi, Secretary ASA Dr Mahboob Hussain, Chief Medical Officer (CMO) Dr Tehseen Zameer, Assistant Professors Sonia Omer, Dr Sania Zahra Malik and others visited the camps.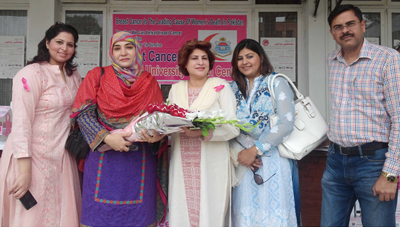 The organizers distributed pamphlets among students and teachers regarding breast cancer awareness. In her message, Dr Tahseen said the Pakistan alone has the highest rate of Breast Cancer than any other Asian country as approximately 90,000 new cases are diagnosed every year out of which 40,000 die. She said that approximately 1 out of every 9 women is likely to suffer from this disease at any point it their lives but if diagnosed early the survival rates approach 90 percent. She said that a short breast examination can prevent this cancer and protect women from this most horrifying and horrendous nightmare.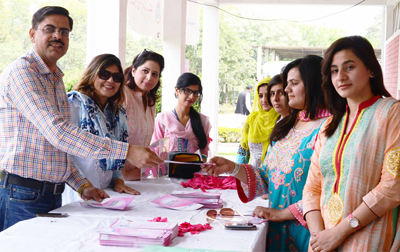 Mentioning facts, she highlighted that breast cancer caused significant mortality in Pakistan and a need to create widespread awareness in Pakistan. She said that according to World Health Organization (WHO), breast cancer rate is getting worse and it is not sparing even young age group. She said women in Pakistan tend to die at greater rates because disease was generally detected in it advanced stages. Dr Tehseen said that we want to increase awareness among general public regarding the importance of early detection of breast cancer as its early detection saves life. In this regard, we need to educate women about self examination and need to see doctor if they feel a breast lump, she added. She said that breast cancer doesn't affect only a woman but whole of her family because of its social and financial impacts. Meanwhile a large number of students, teachers and employees visited the camps to get awareness regarding breast cancer.