LAHORE: (Wednesday, May 11, 2016): Punjab University Vice Chancellor Prof Dr Mujahid Kamran has said that the book written by Allama Iqbal Open University Vice Chancellor Prof Dr Shahid Siddiqui covers all questions regarding education policies in Pakistan and he was in need of such a book as he wanted to seek answer to those questions. He was addressing the book launching ceremony of "Education Policies in Pakistan: Politics, Projection and Practices" written by Allama Iqbal Open University Vice Chancellor Dr Shahid Siddiqui at Institute of Education and Research Waheed Shaheed Hall here on Wednesday. On this occasion AIOU VC Dr Shahid Siddiqui, University of Education Vice Chancellor Dr Rauf-i-Azam, Dean Faculty of Education Dr Mumtaz Akhter, Dr Rafaqat Ali Akbar, faculty members and a large number of students were present.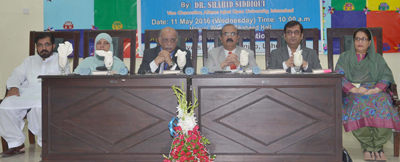 Addressing the ceremony, PU VC Dr Mujahid Kamran said that Dr Shahid Siddiqui had pointed out in his book that it was dreamt that every citizen must had at least primary level education in 1967 but this dream could not come true so far even after 48 years. He said that the book had pointed out discontinuation in education policies and lack of their implementation in a comprehensive way. He said that an important reason in non-implementation of policies was our flawed system of bureaucracy as no bureaucrat could remain in a department for a longer period and that's why required results were not being obtained. He said that reforms must be introduced in our bureaucratic system and a bureaucrat must be promoted to next grades in the same department rather than transferring him to other department on his promotion. He said that students of IER could benefit from the book while every teacher of the university must read this book. Addressing the ceremony, Dr Shahid Siddiqui said that the basic purpose of education was to bring change and development. He said that development was the name of three types of freedoms i.e. freedom of thought, freedom of expression and freedom of choice. He said that education was name of change in individual life which changed life of society. He said that we were not producing good students because of memory-based education system. He said that there must be reconceptualization of ideas in academic institutions to create critical perspective in the minds. He said that the teachers must have courage to tolerate disagreement. He said that a good teacher was a good learner as well and had diversity and had knowledge of different subjects. He said that he had hoped to write a book in which all the education policies of the country could be mapped.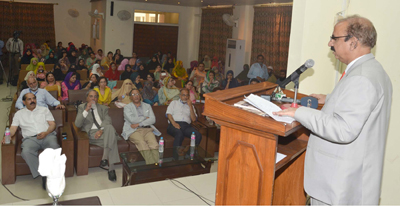 Addressing the ceremony, Prof Dr Rauf-i-Azam said that this book was a guide for the next generation to learn from our mistakes and was the best book on the history of education in the country. He said that good qualities, deficiencies and the reasons to miss the goals of education policies had been identified in the book. Dr Uzma Qureshi said that this book was a true criticism to improve our education system. She said that the book threw light on academic journey of Pakistan which started in 1947. He said that we had good education policies but the real problem was their implementation. Shahzeb Khan said that the country could progress if the recommendations of Dr Shahid Siddiqui for improvement of education system were adopted and implemented in letter and spirit and especially its appendices were very important asset. IER Director Prof Dr Mumtaz Akhtar gave a detailed briefing on the content of the book and said that the book was an asset for the scholars of the field.