LAHORE: (Thursday, November 23, 2017): Punjab University Vice Chancellor Prof Dr Zafar Moeen Nasir, as per his commitment in February this year, has laid foundation stone of dedicated building for Institute of Islamic Studies (IIS) besides Sheikh Zayed Islamic Centre (SZIC). In this regard, an earth breaking ceremony was held at SZIC New Campus here on Thursday. Dean Faculty of Islamic Studies Prof Dr Tahira Basharat, Director Institute of Islamic Studies Prof Dr Saad Siddiqui, SZIC Director Prof Dr Muhammad Ejaz, President Academic Staff Association Javed Sami, faculty members and a large number of students participated in the ceremony.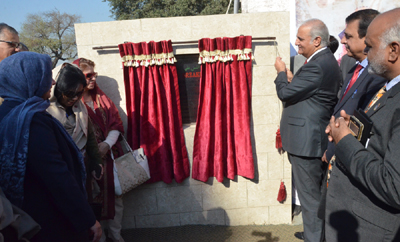 Addressing the ceremony, Dr Zafar Moeen Nasir said that there were misconceptions about Islam in the West and Institute of Islamic Studies would initiate research projects to remove such misconceptions. He said that we would send message of peace and our scholars would present true image of Islam. He said that Islam instructed its followers to take special care of human rights and we had been created to help each other. He said that Islam was the best religion on earth. He said that comparative religion studies would also be promoted at the institute. He said that realizing the importance of research in Islamic studies, the PU administration had promised some months back to provide separate building for IIS and construction work would start very soon.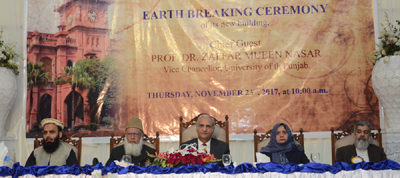 Addressing the ceremony, Dr Tahira Basharat said that for the first time in the IIS's history, which is the oldest institute of Islamic studies in Pakistan, the institute was going to have its own building. She thanked PU VC Dr Zafar Moeen Nasir for extending all-out support in this regard. Prof Dr Saad Siddiqui said that IIS teachers had contributed their one month salary for the construction of new building while Rs 10 million had also been allocated from the institute's funds for the purpose.